Posted on
Tue, Dec 20, 2011 : 1:53 p.m.
Worker critically injured after being pinned under excavator at County Farm Park
By Kyle Feldscher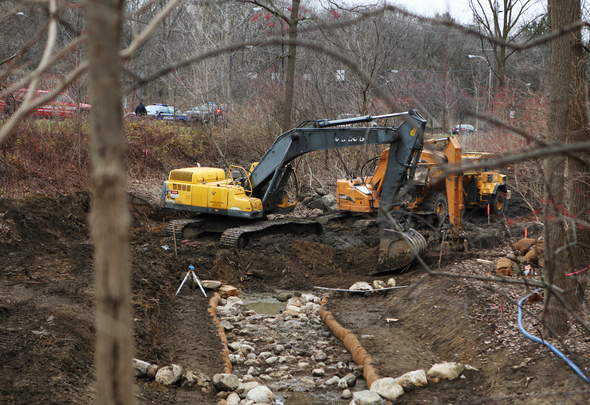 Jeff Sainlar | AnnArbor.com
Updated: Man dies after being pinned by excavator at County Farm Park
Police are investigating an industrial accident that happened shortly after 1 p.m. Tuesday at County Farm Park in Ann Arbor, leaving a man critically injured.
Officials on the scene said shortly before 2 p.m. that it's unclear how the incident happened, but they do know that a man was pinned under an excavator at the scene of the Malletts Creek restoration project.
The location is southeast of the intersection of Washtenaw and Manchester, where traffic slowed while rescuers freed the man from the equipment just before they raced him to University of Michigan Hospital.
The excavator was stuck in the mud, said Craig Sidelinger of the Ann Arbor Fire Department.
The victim's condition was unknown, but initial reports indicate severe pelvic injuries.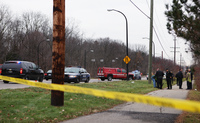 Jeff Sainlar
Police remained on the scene as they tried to determine which agency holds jurisdiction. Investigators from the Ann Arbor Police Department and Washtenaw County Sheriff's Department both responded.
The location was described as about 50 feet off of the bike path, located in a muddy area below the grade of Washtenaw, which is adjacent to the bike path.
Other workers on the scene at the time of the accident were sent home, officials said.
The equipment on site belongs to Mead Bros. Excavating, based in Springport, Mich. That company was awarded a $2.2 million county contract last summer to do the excavation work associated with the Malletts Creek work.