Posted on
Wed, Feb 29, 2012 : 5:30 a.m.
Workshop for Ann Arbor area residents offers tips on how to appeal property tax assessments
By Ryan J. Stanton
State Rep. Mark Ouimet, R-Scio Township, is inviting residents for the second year in a row to attend a special workshop to learn how to appeal their property tax assessments.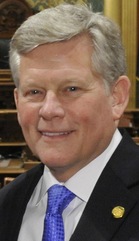 The workshop takes place from 6-7:30 p.m. Thursday at the
Washtenaw Intermediate School District
building at 1819 S. Wagner Road in Scio Township.
That's just west of Ann Arbor on the east side of Wagner Road between Scio Church Road and West Liberty Road.
Expected to join Ouimet at the meeting for the second year in a row is Republican state Rep. Tom McMillin, a certified public accountant and property tax expert.
"When we did this last year, we had about 150 people come out, and we'll probably expect about the same," Ouimet said.
"It's a good venue for people to ask questions about how assessors get to the level of evaluating someone's property, and then if you don't think it's correct, it gives you the opportunity to understand how you appeal it. So it's both educational and action-oriented if people don't feel good about what number they've been given."
No appointment is necessary. For more information, contact Ouimet toll free at 855-627-5052 or markouimet@house.mi.gov.
In the coming days, area property owners are expected to receive their 2012 property assessment and taxable value notification letters in the mail. New assessments come out each year in early March.
Tom Crawford, Ann Arbor's chief financial officer, told the City Council at a recent meeting that property taxes are projected to come in $600,000 higher than expected this year.
Under state law, Michigan residents have the right to appeal their property tax assessments and make their case before a local board of review.
The Ann Arbor City Board of Review meets starting on Monday of the third week of March for a period of four days, and it's during that time that resident must appeal.
Members of the Board of Review are citizens appointed by the mayor, with City Council approval, and are not employees of the city.
Residents are required to first protest before the local board of review. If unsatisfied with the board's determination, they can appeal to the Michigan Tax Tribunal.
Residents who want to go the extra step have until July 31 to appeal to the Michigan Tax Tribunal, while business owners have until May 31.
Ryan J. Stanton covers government and politics for AnnArbor.com. Reach him at ryanstanton@annarbor.com or 734-623-2529. You also can follow him on Twitter or subscribe to AnnArbor.com's email newsletters.