'YOLO' message on road construction sign in Ann Arbor is short-lived
Posted on Wed, Jul 11, 2012 : 1:20 p.m.
YOLO lived once, but its short time on a digital message board along East Stadium Boulevard in Ann Arbor has come to an end.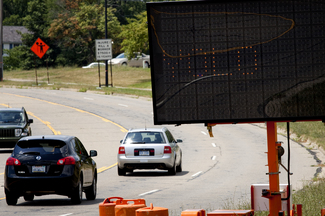 Jeffrey Smith | AnnArbor.com
Ann Arbor officials say they've resolved the case of the curious road construction sign on East Stadium near Tappan Middle School, which was reprogrammed over the past weekend to boldly feature the acronym "YOLO," standing for "You Only Live Once."
The sign was supposed to warn motorists of road construction, including lane closures, ahead on Stadium Boulevard. City officials received reports on Sunday afternoon that it had been reprogrammed to simply read: "YOLO."
"We turned off the sign on Monday, and on Tuesday the contractor corrected the message and turned it on again," said Homayoon Pirooz, head of the city's project management unit.
"It should be on and working now," he said on Wednesday afternoon.
East Stadium is expected to be resurfaced and reopened by the end of October. The nearby Stadium bridges are scheduled to reopen to traffic on Nov. 14.
YOLO, dubbed "the newest acronym you'll love to hate" by the Washington Post, also was spray-painted recently on the side of a local resident's home.