Posted on
Mon, Apr 16, 2012 : 5:56 a.m.
Your comprehensive guide to upcoming road work in Washtenaw County
By Lisa Allmendinger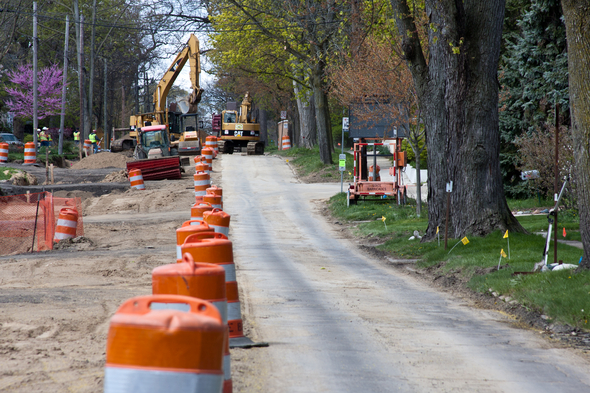 Steve Pepple | AnnArbor.com
No matter which direction you are headed, you might think about leaving for work a little earlier than usual starting Monday and for the foreseeable future.
The projected lineup of state, city and local road projects planned for this spring is extensive — and just when you think you might be home free for a while, other projects will begin, and many will last well into the fall.
Multiple communities, the Washtenaw County Road Commission and the Michigan Department of Transportation already are setting up those familiar orange barrels and changable signs, so get ready to welcome road construction season to Michigan.
Ann Arbor
In addition to what's already under way, the city plans a robust spring and summer road construction season, thanks to a number of state and federal grants. Officials say nearly double the usual amount of street work will take place this year.
Here's a story about the 37 streets set to see work.
Chelsea
MDOT in mid-April is expected to begin a roughly $4 million project on M-52 that's scheduled to continue through November on the 1.1-mile stretch of road.
Planned is the resurfacing of about a mile of M-52 from the Interstate 94 interchange north to Old US-12. Improvements also include ramp reconstruction at the interchange, utility upgrades, and curb, gutter and sidewalk installation.
The resurfacing project on M-52 between Old US-12 and Brown Drive will take place primarily between 8 p.m. and 5 a.m., and there will be one lane open in each direction during construction. However, during part of the construction, southbound M-52 traffic will be detoured overnight. Eastbound Old US-12 will have short-term detours in place during work at the Old US-12/M-52 intersection as well.
For more information and a map, click here.
Dexter
Beginning in mid-April, Main Street between Jeffords and Baker will be resurfaced. The downtown crosswalks also will be enhanced with stamped-colored concrete.
The project is expected to take about six weeks, and one-way traffic heading east will be maintained throughout the project. Parking on Main Street will not be available during this time.
Here's a map of available parking in the downtown area.
Manchester
Work is already under way on M-52 improvements in the village that include about 2 miles of pavement between Austin Road and Dutch Drive. Work is expected to last through November.
Also included is the realignment of the M-52-Main Street intersection. One lane of traffic will continue on the M-52 bridge with temporary traffic signals, and this work is expected to last through early summer. Southbound traffic will have one lane open between Hibbard Road and Dutch Drive and northbound traffic will be detoured.
Here's more detailed information and a map of the projects.
I-94
Moving on to MDOT projects, from April to October on I-94, crews will install 12 miles of cable guardrail between Parker Road and the Washtenaw County line. Expect shoulder closures as well as intermittent nighttime closures.
US-23
US-23 will have orange barrels galore as several different sections of the road will see improvements.
Beginning in May and lasting through August, workers will resurface five lanes of US-23 from Washtenaw Avenue to M-14. There will be nighttime lane closures, some weekend lane closures and ramp closures.
Interchange improvements will begin at US-23 and Washtenaw Avenue in May, and are expected to continue through August as a non-motorized path is constructed along the road. There will be nighttime and weekend lane closures as well as short-term ramp detours at the US-23 and Washtenaw Avenue interchange.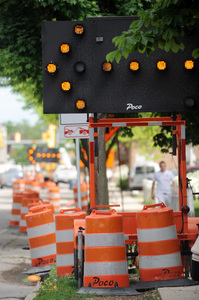 Melanie Maxwell | AnnArbor.com
Six miles of US-23 between Carpenter Road and Bemis Road near Milan will be resurfaced beginning this month and lasting through August. Expect nighttime, single-lane closures and short-term ramp closures.
Beginning in June, crews will repair both the Willow Road and Bemis Road bridges over US-23. The work, which is expected to last through November, will mean nighttime single lane closures on US-23 and local road detours.
On M-14 through September, MDOT plans to resurface 8 miles between Earhart Road and the Washtenaw-Wayne county line. Two lanes of traffic will be maintained in each direction with traffic shifts, as well as single-lane closures at night and on weekends.
Here's a more detailed list of all the projects.
Local and primary roads
Don't forget about this partial list of local and primary road projects planned by the Washtenaw County Road Commission.
In Saline Township, $36,000 in guardrail replacements will take place on Arkona Road, west of Jordan Road this spring.

In Ypsilanti Township, the Ford Boulevard Phase II project includes milling and resurfacing the road from M-17 to US-12 and the re-striping of the road from four to three lanes. This $200,000 project is expected to take place from August to October.

In Lodi Township, Fox Ridge Court, a cul-de-sac off Pleasant Lake Road, will see a roughly $87,000 milling and resurfacing of its roads in June.

In Pittsfield and Ypsilanti townships, Golfside Road between Packard and Clark roads will see mill and resurfacing as well as sanitary sewer work in a joint venture with the Ypsilanti Community Utilities Authority. The $1.1 million project is expected to begin in May and continue through July.

Washtenaw Community College and St. Joseph Mercy Hospital in Superior Township are combining resources for a $100,000 to $200,000 project that includes the construction of a center lane, a left-turn lane and removal of the pedestrian tunnel on Huron River Drive near those two campuses. No firm date has been set for this work.

Residents who live on Scio Township's Park Road, a gravel road, will see it paved beginning in August. The $200,000 project is expected to take place from August through October.
Also planned are paving or overlay projects or both. The first phase of this mill and overlay program includes:
Austin Road — Dell Road to Saline City Limits
Austin Road — Schneider Road to Boettner Road
North Territorial Road — 0.5 miles east of Huron River Drive to Mast Road
North Territorial Road — Whitmore Lake Road to Spencer Road
Werkner Road — M-52 to Waterloo Road
The $1.2 million second phase will include:
Austin Road — Schill Road to Dell Road
Clark Road — Golfside Road to Hewitt Road
Dexter-Chelsea Road — Freer Road to Dancer Road
Dexter-Pinckney Road — North Territorial Road to the county line
Huron River Drive — Clark Road to WCC/St. Joseph Mercy Hospital
Platt Road — Textile Road to Ellsworth Road
In Superior Township, Plymouth Road from Dixboro to M-153 will see improvements beginning this summer. That segment of road will be milled and resurfaced. There will be a center and left-turn lane as well as a new traffic light at Cherry Hill Road. The project has an estimated cost of about $1 million.
In Lodi Township, Waters Road from Wagner to the end of the pavement at the Pittsfield Township line will see about $390,000 in improved drainage. For a information on meeting planned on this project, click here.
The Willis Road Bridge over the west branch of Paint Creek, west of Whittaker Road, will be replaced at a cost of $750,000. The Augusta Township project is expected to begin in June and last through August.
In Pittsfield Township, work was expected to begin Monday in the area of the Costco Warehouse store. The Washtenaw County Road Commission will begin lane closures on Ellsworth Road between State Street and Airport Boulevard, State Street between Ellsworth Road and I-94, and Research Park Drive just east of State Street for road improvements.
Keep in mind there is more to come. There will be additional township projects once elected officials finalize contracts with the Road Commission.
If you'd like to see what MDOT has planned across the state, here's a map of all the planned construction projects.
Make sure the car air conditioning is in working order. With all of these road projects gearing up, you should expect to spend some time stopped or crawling though backed-up construction traffic.
Lisa Allmendinger is a regional reporter for AnnArbor.com, who also covers the Washtenaw County Road Commission. She can be reached at lisaallmendinger@annarbor.com.