Posted on
Fri, Aug 27, 2010 : 6:03 a.m.
Yousef Rabhi gains 1 vote in recount, officially wins Washtenaw County Board race by 2 votes
By Ryan J. Stanton
It's been a long three weeks since election night for Yousef Rabhi, who won a Washtenaw County board primary battle by a razor-thin, one-vote margin.
After a recount Thursday, the Ann Arbor resident can now rest assured that he's officially won by not one, but two votes.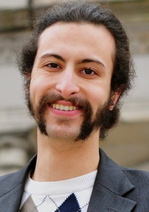 "Good god is it a relief," he said after election officials finished tallying results. "I feel relieved that the primary is behind us, and we can start thinking about November."
Ann Arbor resident Mike Fried asked for the recount after losing by one vote to Rabhi in the Aug. 3 Democratic primary race for the 11th District seat on the Washtenaw County Board of Commissioners.
Unofficial results from election night showed Fried pulled 997 votes, while Rabhi had 998. LuAnne Bullington had 108 votes, and Alice Ralph had 281.
During the recount, Rabhi picked up one vote and Ralph lost one. The recount cost Fried $10 per precinct, and there were 16 precincts.
"On election night, it felt good, but I couldn't be too celebratory because I knew there would be a recount," Rabhi said of his one-vote win. "Now I feel like I won, it's official, I watched them sign the paper — and it's two votes now instead of one, which makes me feel twice as good."
Rabhi, who celebrated his victory Thursday night at Old Town Tavern in Ann Arbor, will take on Republican Joe Baublis in the November general election. Both men are seeking the seat being vacated by Democrat Jeff Irwin, who has represented the 11th District for the past decade and is now running for the state House.
Rabhi, a University of Michigan student and community activist, is heavily favored to win the seat in November. Not only is the 11th District largely Democratic, but the Republican opponent he faces has attracted negative publicity recently for leaving the scene of a hit-and-run crash that injured a teenage pedestrian.
"I think we should do fine," Rabhi said. "But it's a democracy, it's an election, and I'm planning on getting out there and knocking on doors. I'm still going to be out there putting up yard signs and talking to folks."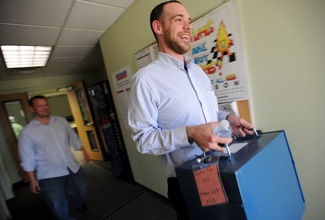 Melanie Maxwell | AnnArbor.com
Fried posted a message on his website after Thursday's recount, thanking his supporters and congratulating Rabhi for his win. He pledged to give Rabhi his full support in the upcoming election against Baublis, saying that the primary without question points out the importance of each person's vote.
"I am, of course, disappointed that I was not victorious," he said. "But I plan to continue my efforts to improve the quality of life for those living in Washtenaw County, and to continue my involvement with organizations that help those in need and that work to build a better future for all of us."
Based on the number of ballots seen Thursday where the only vote cast was for Republican gubernatorial candidate Rick Snyder, Fried said he could only conclude that a number of Democrats voted in the Republican primary. He said he wished they instead had participated in their own party's primary.
Several hours into Thursday's recount, a ballot box mixup caused a bit of drama when election officials realized they had received the wrong set of ballots from Ann Arbor Township.
Witnesses said election officials realized they needed another set that was locked away inside the township hall and had trouble tracking down someone from the township with a key to access the ballots.
There was mention at one point of possibly getting the sheriff's office involved to break down a door to get to the ballots, but they eventually were retrieved without having to go that route.
Ryan J. Stanton covers government and politics for AnnArbor.com. Reach him at ryanstanton@annarbor.com or 734-623-2529.