Ypsilanti City Council to consider resolution supporting revocation of party store's liquor license
Posted on Mon, Jul 16, 2012 : 5:47 p.m.
During its Tuesday meeting, the Ypsilanti City Council may adopt a resolution to support the revocation of Brandy's Party Store's liquor license.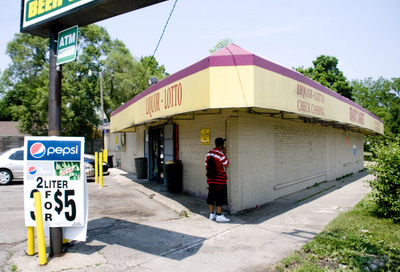 Tom Perkins | For AnnArbor.com
The store, located at
902 W. Michigan Ave.
near Summit Street, has been closed and padlocked for nearly a year after the Washtenaw County Circuit Court entered
an order
on Aug. 3, 2011 stating Brandy's had to remain closed until Aug. 4 of this year.
In June 2011 the city filed a motion asking Judge Timothy Conners to find Brandy's owners, Sam and Kathy Hanna, in contempt of court for failing to meet several provisions of a March 2009 consent agreement.
In an undercover raid by the Michigan State Police and Ypsilanti Police Department in August 2010, Brian Hanna, Sam Hanna's son, was arrested for receiving and selling stolen goods to undercover investigators on five different occasions.
Some of the orders outlined in the consent agreement included allowing the Ypsilanti Police access to the store's video surveillance system as needed to identify potential criminal activity, reducing hours of operation and retaining private security services on the premises.
Council member Ricky Jefferson said the surveillance cameras never worked and the security guard hired was only there for a short time.
Mayor Paul Schreiber said Brandy's has been a "problem for years" and the issues stem from its ability to sell alcohol. Even though only the Michigan Liquor Control Commission has the power to revoke the license, Schreiber said by passing the resolution, council will show its support.
The mayor said he believes the majority of the city council will vote in favor of the resolution.
"A lot of people say the neighborhood has been quiet since its been closed," he said. "Council feels the same way and we're sending a resolution of support."
A letter of support co-written by State Rep. David Rutledge and State Senator Rebekah Warren was sent to Andrew Deloney, chairman of the MLCC.
Over the years, Schreiber said the city and Ypsilanti Police have received several complaints about Brandy's including gunfire and fights in the area.
"There was a lot of drug activity there and a lot of people hanging out and prostitution," Schreiber said.
On June 6 of last year, an unidentified individual fired semi-automatic rounds near the store. Jefferson said this is one of many reasons and instances that resulted in him fully supporting the store losing its license.
"I believe that we have to move on this in the courts to prevent Brandy's from reopening because a consent agreement is not enough to prevent them from being a problem again," Jefferson said. "It's my neighborhood and I want it to be as safe as possible. We as a community have to address this."
The store is in Ward 1, which both Mayor Pro Tem Lois Richardson and Jefferson represent. Jefferson said they both are firm supporters of revoking the license even though the owners have attempted to meet with him, Richardson and Schreiber.
"We definitely let them know it won't be any deals made," Jefferson said. "Going to court may have cost the city money but at the expense of getting the community safe again, it's worth it."
City officials said liquor licenses typically only are revoked for selling alcohol to minors but Jefferson said the city is hoping the MLCC makes an exception in this situation. A hearing will be held in August at Plymouth City Hall and one MLCC commissioner will review the seven counts of violations the store received as a result of the raid.
Katrease Stafford covers the city of Ypsilanti for AnnArbor.com. Reach her at 734-623-2548 or KatreaseStafford@annarbor.com. You can also follow her on Twitter.