community wall links:

Beatles tribute band visits Ypsilanti District Library; Dexter church hosts Italian dinner fundraiser to benefit Habitat for Humanity

Posted on Fri, Feb 17, 2012 : 10:06 a.m.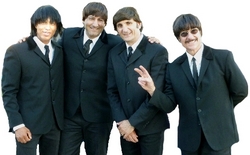 publicity photo
From a Beatles tribute band coming to the Ypsilanti library to an Italian dinner fundraiser in Dexter, here's a roundup of some of the stories posted on AnnArbor.com's Community Wall this week:
By: Donna DeButts: Ypsilanti District Library Presents a Triple Event Weekend!
First up is the movie Whatever Happened to Idlewild? The second event of this weekend is titled Fiddle with the Violin. To top it all off, YDL-Whittaker will be hosting a concert by Beatles tribute band, Toppermost on Sunday, February 19.
By: Mary Jo Frank: A Dexter Tradition: Feb. 25 Italian dinner and silent auction will benefit Habitat
Dexter United Methodist Church will host its annual Italian dinner and silent auction to benefit Habitat for Humanity on Feb. 25.