Posted on
Fri, Feb 17, 2012 : 10:06 a.m.
Beatles tribute band visits Ypsilanti District Library; Dexter church hosts Italian dinner fundraiser to benefit Habitat for Humanity
By AnnArbor.com Staff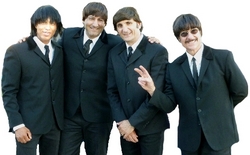 publicity photo
From a Beatles tribute band coming to the Ypsilanti library to an Italian dinner fundraiser in Dexter, here's a roundup of some of the stories posted on AnnArbor.com's Community Wall this week:
By: Donna DeButts: Ypsilanti District Library Presents a Triple Event Weekend!
First up is the movie Whatever Happened to Idlewild? The second event of this weekend is titled Fiddle with the Violin. To top it all off, YDL-Whittaker will be hosting a concert by Beatles tribute band, Toppermost on Sunday, February 19.
By: Mary Jo Frank: A Dexter Tradition: Feb. 25 Italian dinner and silent auction will benefit Habitat
Dexter United Methodist Church will host its annual Italian dinner and silent auction to benefit Habitat for Humanity on Feb. 25.
By: Dawn Bussey, Birth Doula: Ann Arbor Movie Night! "Doula! The Ultimate Birth Companion"--hosted by Dawn Bussey, Birth Doula
By: Justin Fisette: United Methodist Retirement Communities hires Tim McIntyre as Director of Business Development
By: Janet Hawkins: WCC Hosts University Transfer Fair Feb. 22 and WCC Volunteer Fair Set for Feb. 21
By: Laura's Child: The Loyal Opposition to the Status Quo, Inc. to Meet Saturday
By: Margaret Blohm: Pizza House's 2012 "Pizza for Pets" Fundraiser for Humane Society of Huron Valley Raises Record Amount
By: Catholic Social Services: Washtenaw Child Advocacy Center Photography Contest ~ Deadline April 6, 2012
By: Food Gatherers: Local poetry shines at Broken Circles Hunger Project
By: nancy: Ann Arbor Cantata Singers "Serenades and Nocturnes" Concert
By: MonicaCl: An Evening with Dr. Guy McPherson
By: A2Parks: Sign up for swim lessons at Mack Indoor Pool
By: KidneyMI: National Kidney Foundation of Michigan Hosts Bowlapalooza to Fight Kidney Disease
By: Nadine Anderson: Manpower is holding a job fair in Chelsea
By: Second Baptist Church: Celestial Choir Concert - February 26 @ 5 pm
Arbor.com's Community Wall is a spot for local people to post local stories, news and announcements. To post a story, sign in to AnnArbor.com, then go to www.annarbor.com/community and use the Got News? Tell Us function at the top to submit your news. If you have a photo to add, e-mail it to us at community@annarbor.com, and we'll insert it into your story.