Posted on
Fri, Sep 2, 2011 : 5:59 a.m.
Ypsilanti police, sheriff's department team up to discourage prostitution on Michigan Avenue
By Tom Perkins
Early Wednesday evening, an undercover Ypsilanti Police officer approached a woman in her mid-40's, offering money for sex as she walked near the corner of East Michigan Ave. and Allen Road in Ypsilanti Township.
The woman accepted and got in an unmarked car. Minutes later she and the "john" were pulled over just east of Prospect Road on Cross Street by a team of Ypsilanti officers and Washtenaw County sheriff's department deputies.
The solicitation took place in Ypsilanti Township, the arrest was made in Ypsilanti and the woman was taken to the YPD for booking en route to the Washtenaw County Jail. She would spend the night there before seeing a judge in the morning.
"For these details that's normally how it goes," said sheriff's department Sgt. Marlene Radzik.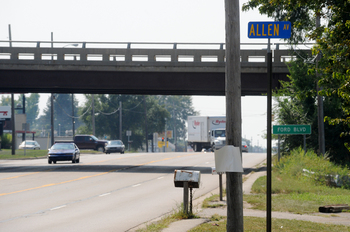 Melanie Maxwell | AnnArbor.com
Six times over the last year, the sheriff's department and Ypsilanti Police have run joint sting operations to try to curb persistent prostitution issues along East Michigan Ave., largely between Prospect and Ridge Roads. The stretch runs through their two jurisdictions, and both agencies ran solo sting operations in the past, but officials said they only succeeded in pushing the problem up and down the corridor.
Now, officials are hoping to permanently put a stop to prostitution in the area, and the partnership is one effort to address the issue. The other is an aggressive social program. Before a prostitute is transferred to the county jail, she meets with workers from the county's Project Outreach Team (PORT) for an assessment of her mental health and substance abuse issues.
The team writes sentencing recommendations that include mandatory substance abuse and mental health treatment. Because most area prostitutes, like the one arrested on Tuesday, are high when arrested and ply their trade to raise more money for drugs, PORT takes aim at those issues. And most judges take the recommendations seriously.
Police and social workers stressed that drugs and mental illness are behind the women's lifestyle choices, and the agencies are trying to be more effective by addressing them.
"I have not met one person while I've been out doing this who doesn't have a drug addiction or mental illness," said Renee Blaze, a PATH worker who interviews women.
The program started when Radzik, who has regularly logged hours as a decoy throughout her 22 years on the force, reached out to the social work agencies and YPD. The YPD's end is managed by Sgt. Troy Fulton. The partnership with social workers is new for both police agencies, which are used to simply arresting people and letting the judge handle the rest.
Officials in both agencies hope the new approach will be more successful than the past practice of catching, booking and releasing women and johns. Officers say they see too many repeat offenders and regularly arrest the same people in the same area.
A problem on the wane?
Fulton said Ypsilanti experienced a decrease in the number of prostitution calls over the last year, and neighborhood groups in the area are lodging fewer complaints about the issue. The business community along East Michigan Ave has been vocal about the problem in the Township.
Fulton theorized prostitution activity may have dropped in part because of the township's sharp industrial decline.
"When you have 4,000 plant workers coming and going, there are a lot more customers," he said.
But undercover officers running the sting operation Wednesday evening only waited minutes before identifying and approaching suspected prostitutes.
Police officials said part of the problem is the strip has been identified as a good spot to pick up prostitutes on websites like Craigslist and USASexGuide.info. At the latter, prostitutes and locations are rated and discussed in threads. Users also discuss sting operations.
Fulton said officers suspect prostitutes may use some of the motels on the strip, though they don't have concrete evidence and don't set up sting operations there. He added the area's physical environment also allowed prostitution to flourish. Until it was recently shut down and cleared, the Ypsilanti Mobile Village mobile home park just west of Ecorse Road on East Michigan Avenue was known for rampant prostitution because of the number of abandoned trailer homes.
Some of the women and johns arrested on stings are from out of town, while others are local. When a female decoy is out, officers pick up around eight johns in a five-hour period. When male decoys go looking for women, they usually net five to six.
There is no program for johns, though Radzik is hoping to eventually start one. Generally, their cars are impounded and they are charged with a misdemeanor.
The agencies have run six joint operations over the 18 months. Some planned operations had to be canceled because such a large team is required. Officers work on paid overtime for the stings, and more pressing issues such as murders occasionally require their full attention.
But police officials stressed prostitution is a serious crime and is not "victimless." Officers see women who are beaten or stabbed, and sometimes the women steal from their customers. Since most of the sex is unprotected, the johns sometimes bring home STD's to their wives. People who live in the area have to witness the prostitution and neighbors have complained that their teenage daughters are solicited when walking up to local stores.
Signs of success
Following another arrest during Wednesday's sting operation, a woman in her early 20s with a record of prostitution told the arresting deputy, Sharon Saydak that she recognized Saydak from a previous arrest. The woman claimed she was set up by a friend on the first arrest. She then said that she hadn't planned to have sex with the undercover officer that evening and was only getting a ride to her aunt's house.
"I'm doing a lot better since you last saw me," she told Saydak.
Because it is still so early in the program, officials don't know the scale of their success, but PORT workers say results have been better than expected. Although the third woman arrested was a repeat offender, officers say anecdotally they are seeing fewer repeaters. Several of the first six women arrested and put through the program are now volunteers at PORT.
Beds are held at a local treatment center for women who are caught in the stings, and workers try to engage them as much as possible. After the prostitutes' initial assessment and follow up visits from PORT workers in jail, they are steered — or court ordered — to PORT's resources for homeless, drug-addicted and mentally ill residents caught in the justice system. The program aims to treat mental illness and addiction at the same time to increase the chances of success.
Radzik said she started the joint program and has a passion for it after what she has seen over the years. Many of the women in the Ypsilanti area use either crack or heroin, and most have no stable home and stay wherever they can. The prostitutes' lives, Radzik said, have become "a sad revolving door."
"You have to be desperate to put up with that," she said. "Until you walk in their shoes, it's hard to understand that their addictions must be so much stronger than their common sense when they decide to put themselves in that position."