Posted on
Fri, Jan 7, 2011 : 6:02 a.m.
Ypsilanti Mobile Village owner states intention to clean up park; new court date set
By Tom Perkins
Ypsilanti Township officials are making progress in their effort to force the owner of the Ypsilanti Mobile Village to clean up the now-abandoned trailer park.
Township attorneys were successful in convincing a judge to lift a stay on any legal action against Dominic D'Mello's company, Cormello LLC, after D'Mello filed for bankruptcy in mid-December.
On Monday, D'Mello's attorneys sent a letter to the township stating D'Mello would hire a company to undertake the estimated $75,000 to $100,000 remediation within 30 days.
Township attorney Doug Winters said he's pleased to see the letter, but wants a judge to order the clean up.The township and D'Mello have a new date in Washtenaw County Circuit Court on Jan. 12.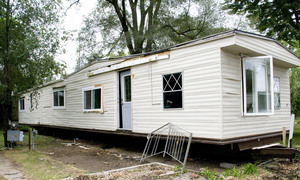 "I don't trust that that's going to be done because someone says they are going to do it in a letter," Winters said. "I want to see that incorporated into a court order."
Township attorneys were scheduled to meet D'Mello in circuit court for an emergency show cause hearing on Dec. 16, but D'Mello filed for bankruptcy in the 12th District U.S. Bankruptcy Court in Detroit hours before the circuit court hearing.
That filing automatically placed a stay on any further legal action against D'Mello, prompting Winters to file a motion with U.S. bankruptcy Judge Thomas Tucker to have the stay lifted. That request was granted at an expedited hearing.
In his order, Tucker wrote the automatic stay doesn't apply for the litigation the township is seeking against D'Mello. A municipality trying to enforce its ordinance codes is an exception to the rule that bankruptcy proceedings stop all litigation.
"You just can't let (the park) slide into this absolute wretched state of affairs and not be held accountable somewhere," Winters said.
The township's original motion filed in circuit court requests that D'Mello clean up the now abandoned trailer park, which officials say has become a haven for criminals, prostitution and now resembles a "Wild West ghost town".
In the Jan. 3 e-mail to Ypsilanti Township and state officials, Lawrence Swistak, an attorney with Swistak Levine representing D'Mello, wrote his client intends to "eliminate any health and environmental dangers" to Ypsilanti Township residents. It also says D'Mello has entered into a written contract with Arrow Mobile Homes to remove any remaining trailers, vacant structures and debris from the property.
Arrow has been instructed to immediately obtain all necessary permits, and township officials will conduct the final inspection, the e-mail says.
An attachment to the email provided recommendations from Novi-based Strategic Operational Solutions on how to "close" Ypsilanti Mobile Village. Some of it matches what the township has asked the courts to order D'Melllo to do, which is totally clear out and secure the park.
In its Dec. 16 motion, the township asked that D'Mello remove all the remaining trailers, three permanent structures, all the park's infrastructure and smaller items such as satellite dishes and landscape edging.
The motion also asked that D'Mello be ordered to fill in gullies created from utility crocks and erosion, clean contaminated soil and clear garbage and debris off the grounds.
The recommendations from Strategic Solutions didn't go as far as the Dec. 16 motion in some cases, and Winters wrote in a response to Swistak that he would forward the e-mail to Mike Radzik, director of the office of community standards, for review.
Winters also asked for a copy of the contract, which wasn't included in the e-mail, and informed Swistak that the township would still be seeking a court order on the original motion at the Jan. 12 court date.
The township laid out the conditions at the East Michigan Avenue trailer park in its Dec. 16 complaint. Among other the issues in the park, according to township and police officials:
Raw sewage continues to leak from several residences.
A woman reported being dragged into an abandoned trailer and raped in October.
Water lines are broken, causing contaminated water to flow back into the system.
The township has spent thousands of dollars securing the abandoned mobile homes, which scrappers have broken open and stripped of anything of value, including the trailers' siding.
Squatters have taken up residence in at least one unit.
Natural gas leaks from broken gas lines.
Prostitution activity has increased, prompting the Washtenaw County Sheriff's Department and Ypsilanti Police Department to conduct special joint operations in the area.
Colonies of feral cats and wild dogs now roam the park. The dogs have chased sheriff's deputies on foot patrol through the park.
The Sheriff's Department had to set up a foot patrol in the park, and the area continues to require significant police resources.
Former residents' belongings and trash are strewn throughout the park.
Officials also met last week with representatives from the Michigan Department of Labor and Economic Growth, which oversees licensing for the parks. That meeting will lead to greater cooperation between the township and state agency as they continue to deal with Ypsilanti Mobile Village and other trailer parks of concern in Ypsilanti Township, Winters said.
Township and state officials will now inspect those parks and Ypsilanti Mobile Village together. And Winters said he would work with the agency to help get legislation passed at the state level that will improve DELEG's response time and capabilities.
Winters said one of the tools the state agency needs is the ability to obtain a bond letter or letter of credit that would prevent trailer park owners from walking away from their parks and leaving taxpayers with the clean up bill.
Tom Perkins is a freelance writer for AnnArbor.com. Reach the news desk at news@annarbor.com or 734-623-2530.