Posted on
Thu, Apr 22, 2010 : 7:43 p.m.
18 Ypsilanti teachers may soon receive layoff notices
By Tom Perkins
The Ypsilanti school board will vote on a proposal Monday to lay off 18 teachers.
Administrators are making the recommendations in accordance with district's deficit elimination plan, which calls for $6.4 million in reductions by next school year.
Ypsilanti Education Association President Kelly Powers, head of the union that represents the teachers, said the district will cut 23 positions after this school year. Five of those teachers have retired, and their positions won't be filled. The other 18 will receive layoff notices effective June 30.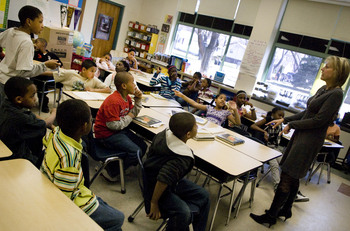 Tom Perkins | For AnnArbor.com
Emma Jackson, the district's spokeswoman, said they anticipate some teachers will opt for retirement, eliminating the need for so many layoffs.
"We are cautiously optimistic some of those folks will be back," she said.
Powers called the district overstaffed and said she doesn't oppose the layoffs. Enrollment steadily declined until the last several years, but the district is projecting 50 fewer students in the 2010-11 school year.
"It costs a lot more money when we're overstaffed," Powers said. "They should have been lowering our staffing levels for several years, they haven't, and that's part of the reason we're in the deficit we are in."
Board President David Bates said no one wants to approve layoffs, but the deficit and continued problems with state funding require tough decisions.
"My daughter has a couple of those teachers on the list, and she is heartbroken," he said.
The deficit elimination plans calls for 40 positions to be cut in total, amounting to $1.85 million in savings. Powers said the next round of layoffs is likely after the next school year.
The Ypsilanti school district isn't alone in anticipating teacher layoffs.
The Ann Arbor school board voted Wednesday to issue 191 layoff notices, although the actual number of layoffs is expected to be much lower. The Saline school board agreed to issue 63 pink slips last week, but is aiming to reduce the teaching ranks by 20 positions.
Tom Perkins is a freelance writer for AnnArbor.com. Reach the news desk at news@annarbor.com or 734-623-2530.