Posted on
Tue, Mar 23, 2010 : 6:19 a.m.
Ypsilanti Public Schools will close Chapelle, East Middle schools
By Tom Perkins
Chapelle Elementary and East Middle School won't reopen their doors next fall.
The Ypsilanti school board approved the district administration's plan to shutter the schools this summer in a 5-2 vote, bringing an end to two months of intense debate within the district community over the fate of the buildings.
Trustees Kira Berman and Andy Fanta voted against the closures.
Berman pointed out that - according to John Fulton, executive director of human resources - the district lost 127 students at the elementary school level when Ardis and George closed five years ago.
She contended if Ypsilanti schools lost 63 students in closing one elementary school next year, it would lose roughly $472,000 in state per-pupil funding. That isn't factored in to the administration's projected $1.3 million in savings.
"School closures only save money if you don't include a loss of students in your budget projections," she said. "No evidence suggests closing elementary schools are good or even neutral for children."
Berman said she could support "restructuring" at the middle school level, but not at the elementary level.
Fanta followed Berman's comments with an amendment to the original motion that called for closing East but leaving Chapelle open for another year. That motion was defeated 5-2, with Fanta and Berman casting the only "yes" votes.
After the board approved the closures, Superintendent Dedrick Martin said they're a "necessary evil" in maintaining the educational quality in the Ypsilanti school district.
"This is not something we relish, nor want to do," he said.
The district must make $6.4 million in cuts by next school year.
Administrators are now faced with the task of redistributing students from Chapelle into the remaining three elementary schools and merging East and West middle schools.
Under the new plan, the district will:
Make Perry a pre-kindergarten through first grade school.
Make Adams Elementary grades K-6.
Make Estabrook and Erickson grades 2-6.
Make West Middle School grades 7-8.
No clear redistribution plan has been announced, but initial informational meetings on how the process will work are tentatively scheduled for Thursday at 6:30 p.m. at Chapelle and Monday at East Middle School at 7 p.m.
They will be followed with letters explaining parents' options and open houses in which families can visit each of the schools.
One of the questions Chapelle parents asked is how redistribution and priority in the schools of choice program would work in the event of the closure.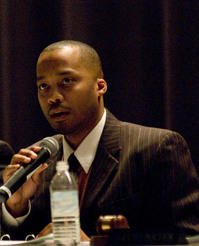 Tom Perkins | For AnnArbor.com
According to district figures, 302 students are currently enrolled at Chapelle. Adams, Erickson and Estabrook are at 53 percent, 79 percent and 82 percent capacity, respectively.
District officials have previously said Estabrook is in high demand and already has a schools of choice wait list.
Martin said Chapelle students will be given first choice on which school they attend over students who are new to the district. But he said no students attending Ypsilanti from out of district through schools of choice will be dislodged to make room for Chapelle students.
Martin said once a student is enrolled in the district, his or her address isn't a consideration in the schools of choice program. He previously conceded not all families wil be able to place their kids in the school they prefer.
The roughly 20 parents and district employees who spoke asked the board to keep Chapelle open.
Maria Cotera, a member of the Chapelle Parent Advisory Board and one of the organizers behind the opposition to school closures, listed the programs unique to Chapelle.
"A special kind of momentum has been built at Chapelle that cannot be measured by charts and graphs," she said.
She later accused the administration of manipulating and withholding data throughout the process.
"We no longer believe anything this administration says at this point," she said.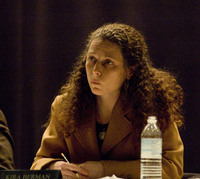 Tom Perkins | For AnnArbor.com
Karen Barren, a co-president of the Chapelle PAB, expressed disappointment in what she said was the district's failure to be forward thinking or creative in solving the budget issues.
"We have just applied a Band-Aid to a gunshot wound and told the patient 'Now, now - everything will be better. Just you wait and see,'" she said.
The board members who voted for the closures called the decision painful.
Trustee Floyd Brumfield said all 551 school districts across the state are facing tough economic times, and school closures are widespread.
"We have no choice but to do something," he said. "If we were the only district undergoing such a plight, then we would seek immediate disclosure as to who the culprit or culprits were, and take the appropriate action."
Board President David Bates said his choice was based on maximizing the available facilities.
"To me, it just isn't right to take money to heat empty classrooms when that money could be used to put a teacher in front of a classroom," he said.
Trustee Sarah Devaney said the deficit must be dealt with immediately, no matter its source.
"It is up to this administration and this board to come up with an aggressive way to get ourselves out of that deficit," she said. "With that deficit being so large, this process is not going to be painless."
She said the argument that closing schools won't save enough money only serves to demonstrate the situation's gravity.
"As painful as it is, closing our schools isn't going to solve our problems," she said.
Devaney's comments took on a confrontational tone when she began addressing those on the board and the leadership in the community that opposed the proposal. At one point, she said she was there to not only serve one child of "highly educated" parents, but all the kids in the district.
The comments drew direct and indirect criticism from several district employees, one of whom called the comments "condescending."
In response to Devaney's remark, Chapelle Principal Joe Guillen said he was proud of all his parents. He added the outpouring of support and positive remarks from parents about their children's experiences at the school "puts you on a cloud."
Guillen said the Chapelle school is unique and connects early with families, leaving "lasting, important impressions." He added he's disappointed the school must close.
"I'm not happy with it, I'm going to struggle with it and when I leave, it's going to be difficult," he said.
District officials said the schools, which were recently renovated with bond money, may find new uses. Administrators are exploring moving several programs such as adult education or the Forest School program to the schools.
Tom Perkins is a freelance writer for AnnArbor.com. Reach the news desk at news@annarbor.com or 734-623-2530.