Posted on
Tue, Dec 27, 2011 : 5:54 a.m.
Ypsilanti Township seeks court OK to demolish abandoned, government-owned 'house of mold'
By Tom Perkins
Ypsilanti Township is requesting a court order to have a U.S. Department of Housing and Urban Development-owned home demolished because it has sat vacant for 18 months and is now infested with mold.
At a recent meeting, the Ypsilanti Township Board of Trustees authorized staff to take legal action against HUD.
Township attorney Doug Winters wrote in a letter to HUD that building inspectors found excessive moisture in the home, at 254 Kansas Street, which has allowed the mold to grow. Additionally, the home's sump pump is running non-stop and discharging water out into the yard.
Building inspectors also found that an addition built onto the home was built on top of a deck and fails to meet a range of codes.
"This house has been left to simply rot, foisting another public nuisance on top of the taxpayers in Ypsilanti Township," Winters wrote.
HUD purchased the home from CitiMortgage, which bought it from a Sheriff's Department auction nearly two years ago.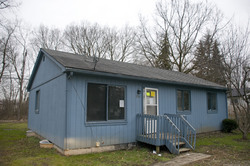 Tom Perkins | For AnnArbor.com
Winters noted the redemption period has expired. He wrote in his letter to HUD that he understood that the homes were not left in good condition but said it was their responsibility to ensure that the home doesn't remain a threat to public health.
"I wonder how long it would have taken Citimortgage or HUD to take the appropriate action to remediate this property if someone on the Citimortgage or HUD Board of Directors were the unfortunate persons having to live next door and deal with this public nuisance?" Winters asked.
The township is asking the Washtenaw County Circuit Court to order HUD to demolish the house and reimburse the township for its legal costs. It's also asking the court to allow it to demolish the home if HUD fails to reply, and to allow the township to bill HUD for the work. If HUD still fails to reply, a lien would be placed on the property.
Mike Radzik, the township's director of the office of community standards, said these type of cases continue to come "fast and furious" at township staff and said he is hopeful a new ordinance the Board of Trustees will likely consider in January is going to help with the issue of bank-, mortgage company- or government-owned foreclosed homes.
Ypsilanti Township has seen a steady stream of neglected and abandoned properties posing serious heath risks to neighbors over the last several months. Some have become home to dozens of domestic animals and vermin, some have mold issues and others are in danger of collapse.
The discussed ordinance would require owners of properties vacant for 30 days to register the homes or businesses with the township and allow township officials to inspect them. The township's office of community standards would keep a registry of vacant properties and officials would visit them annually.
The office of community standards is working with the civil division of the sheriff's department to identify homes as they're foreclosed and purchased. Radzik said the sheriff's office holds a foreclosure auction each Thursday and can provide township officials with a list of recently foreclosed homes and their owners.
"It's another tool in our tool kit in terms of trying to remain proactive in stabilizing neighborhoods," Winters said. "But most of these foreclosures are occurring under mortgages with Fannie Mae and Freddie Mac and the banks that were bailed out by the federal government. It's going to require a much more global approach than what we have now because the cities and townships can't do it on their own."
He said the township's high foreclosure rate has forced it to get in front of the issue.
"But we need help," Winters said.