Ypsilanti Township officials to weigh 'backyard breeders' ordinance Tuesday
Posted on Tue, Jun 21, 2011 : 11:37 a.m.
The Ypsilanti Township Board of Trustees will consider the first reading of an ordinance designed to try to curb "backyard breeding" at residential homes in the township.
The new ordinance, which will be read at tonight's regular board meeting at 7 p.m., would require residents to obtain a permit to breed their dogs. Breeders would have to fill out an application with the township and pay a fee. Township building officials would then inspect the home where the dogs are being bred to ensure the property is up to code.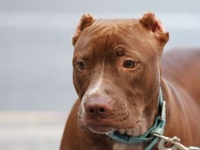 Photo by Photos8.com
Residents would be limited to the whelping of one female dog each year, unless the litter was euthanized. In that scenario a new litter would be allowed.
No dogs could be sold before they are 8 weeks old, and anyone advertising the sale of puppies to the public must display their permit number on the sign.
Breeding pit bulls wouldn't be allowed.
The ordinance would not affect commercial breeders or kennels, and anyone caught violating the ordinance would face misdemeanor charges, up to a $500 fine and up to 90 days in jail.
The ordinance is part of a larger effort to address issues caused by overpopulation of dogs - particularly vicious dogs - in the township.
Last year, the board approved a controversial ordinance that required pit bull owners to have their dogs fixed and also stepped up efforts to get dogs licensed.
The Humane Society fixed 150 dogs in the first quarter of 2011, which is halfway to its goal of 300 for the year. Pit bull owners can take their dogs to the HSHV to get the surgery done for free through 2011.
The township licensed 1,742 dogs in 2010 and already has licensed approximately 1,500 in 2011.