Posted on
Sun, Apr 7, 2013 : 1 p.m.
Ypsilanti Township's Rolling Hills County Park schedules controlled burn as season gets underway
By Amy Biolchini
Joseph Tobianski I AnnArbor.com file photo
Controlled burn
season is
underway
in
Washtenaw County
, and the next scheduled event will be April 8-10 at
Rolling Hills County Park
in
Ypsilanti Township.
The burn will be conducted from 10 a.m. to 5 p.m. all three days at the park at 7660 Stony Creek Road, according to an announcement Friday from the Washtenaw County Sheriff's Office.
About 28 acres of prairie and 3.95 acres of woodlands will be burned during the three-day event.
Smoke typically is visible from the fires.
The City of Ann Arbor's Natural Area Preservation department has started its month-long controlled burn season this April.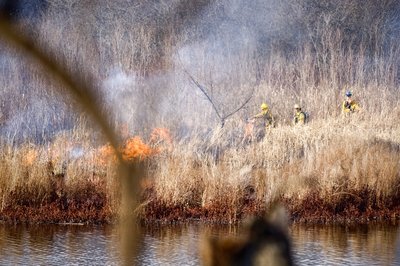 Joseph Tobianski I AnnArbor.com file photo
The unit doesn't announce where it will be conducting its controlled burns until the day of the event.
"It's a day-of decision because it's very weather dependent," said Renee Hytinen, outreach, communications and special events coordinator for NAP. "We have to look at the minute-to-minute weather report."
Interested individuals can sign up to receive email notifications from NAP in the morning of the controlled burn online, or request a phone call notification. Call NAP with questions at (734) 794-6627.
NAP has a list of its parks that are under consideration for controlled burns this month: Argo, Bandemer, Barton, Belize, Bird Hills, Bluffs, Briarcliff Raingarden, Buhr Park Children's Wet Meadow, Burns Park, Cedar Bend, Fuller, Greenview, Hunt Park, Huron Hills Golf Course Woods, Kuebler Langford, Leslie Park Golf Course, Leslie Science & Nature Center Prairie, Mary Beth Doyle, Miller, Oakwoods, Olson, Onder, Ruthven, South Pond South, Veterans Memorial Park, Wheeler Service Center and Wurster.
Hytinen said you can see smoke from the burns, but the goal is to keep the smoke as localized as possible and to keep the quantity of the smoke as low as possible.
The amount of smoke varies depending on whether an open prairie or wooded area is being burned.
"You'd see more (smoke) in an open area," Hytinen said.
At each burn, there's a person who monitors smoke at the site and watches wind and weather conditions. Should the smoke begin to affect a neighborhood or visibility on a road, the burn can be shut down, Hytinen said.
Flames at controlled burns typically are not high, Hytinen said. When the fire hits a brush pile or clump of grass, flames can reach eight to 10 inches high, Hytinen said.
Controlled burns typically are conducted in the spring and fall because plant growth is not as active.
Amy Biolchini covers Washtenaw County, health and environmental issues for AnnArbor.com. Reach her at (734) 623-2552, amybiolchini@annarbor.com or on Twitter.