Updated:

1966 Chevrolet Chevelle stolen from home during break-in

Posted on Tue, Sep 25, 2012 : 12:18 p.m.
Update: Sheriff's deputies recover stolen 1966 Chevelle, arrest suspects
This story has been updated with the photo of the stolen Chevelle.
A 1966 Chevrolet Chevelle, a flatscreen TV and a number of tools were stolen from an Ypsilanti Township home during a home invasion reported on Monday.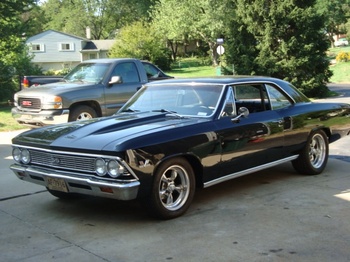 Courtesy of Jim Black
The Washtenaw County Sheriff's Office reported that the break-in occurred at a home in the 2200 block of Valley Drive sometime in the 24 hours preceding when it was reported Monday. According to deputies, a sliding glass door in the back of the house was smashed, allowing the intruder — or intruders — to gain entry.
The home was ransacked, and the TV, tools and Chevelle were all stolen.The Chevelle is a black, two-door vehicle and may have sustained damage to the left rear corner and right side when it was being driven out of the garage. Washtenaw County Sheriff's Office Sgt. Geoffrey Fox said there was damage to the garage in the area of where the Chevelle was parked.
Deputies do not have any suspect information to release at this time, and the still incident is under investigation.
Anyone with information regarding this break-in is encouraged to call the Washtenaw County Sheriff's Office anonymous tip line at 734-973-7711 or Crime Stoppers at 1-800 SPEAK UP (773-2537).