Posted on
Tue, Feb 19, 2013 : 12:20 p.m.
2 men charged in West Willow homicide return to court next month
By Kyle Feldscher
The two men accused of killing Brandon Charles hours before he was set to testify in a road rage shooting case will return to court next month for their preliminary exam.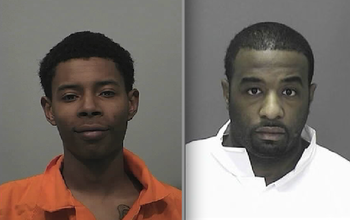 Courtesy of WCSO
Willie Wimberly and Avantis Parker will return to court at 1 p.m. March 19 for a preliminary exam in the death of 29-year-old Brandon Charles, said Todd Perkins, one of Parker's attorneys. Charles was shot and killed Jan. 29 while sitting in his vehicle in the 600 block of Calder Avenue in Ypsilanti Township's West Willow neighborhood.
Perkins said the defense still has not received discovery, or evidence, in the case from Washtenaw County prosecutors and he declined to make any additional comment.
Wimberly, 30, appeared in front of District 14A Chief Judge Kirk Tabbey without a lawyer Tuesday morning. The Washtenaw County Public Defender's Office was appointed to represent him at the hearing, but Wimberly said he plans to hire his own attorney before the next preliminary exam date.
Charles was supposed to testify against Wimberly on the morning of Jan. 30, just hours after he was killed. Wimberly was charged with shooting Charles and a woman believed to be his girlfriend during a road rage incident on Jan. 1 in Detroit.
Charles was shot once and the woman was shot nine times. Both survived the incident. Wimberly and 33-year-old Steve DeShawn Smith-Rush, of Inkster, were both charged in the shooting, but they posted bond. Wimberly was released from the Wayne County Jail on a $250,000 bond on Jan. 21.
Police said Wimberly found out who Charles was through court proceedings. It's not known whether they had any prior contact. Wimberly will return to court in that case Wednesday.
Four days before Charles' death, 21-year-old Parker, of Northville, pleaded guilty to one felony and no contest to assault with intent to rob and armed robbery for an incident in Ypsilanti Township in April.
According to records, Washtenaw County prosecutors asked Washtenaw County Trial Court Judge Archie Brown to send Parker to jail in that case on Jan. 25 following his plea. Brown refused and allowed Parker to remain free on a $25,000 surety bond until his sentencing on April 17.
It's unknown at this point how Parker and Wimberly know each other. Washtenaw County Sheriff's Office Sgt. Geoffrey Fox has not returned calls seeking to clarify their relationship. Last week, Fox declined to say which of the two suspects actually fired the shots that killed Charles.
On Feb. 6, Parker was charged with open murder, being a felon in possession of a firearm, possession of a firearm during commission of a felony and carrying a concealed weapon. Six days later, Wimberly was charged with first-degree murder, conspiracy to commit first-degree premeditated murder, possession of a firearm during commission of a felony, being a felon in possession of a firearm and carrying a concealed weapon.
Parker and Wimberly are both being held without bond. Parker is at the Livingston County Jail and Wimberly is at the Washtenaw County Jail while the case proceeds.
Kyle Feldscher covers cops and courts for AnnArbor.com. He can be reached at kylefeldscher@annarbor.com or you can follow him on Twitter.