Posted on
Tue, Oct 4, 2011 : 10:45 a.m.
Appeals court hearing case of Julea Ward, kicked out of EMU program for refusing to counsel gay student
By Cindy Heflin
The U.S. Court of Appeals is expected to hear arguments today in the case of Julea Ward, who was kicked out of Eastern Michigan University's graduate counseling program after refusing to counsel a gay student.
Ward said homosexuality was against her religious beliefs. Ward had referred the client to another counselor.
Ward sued EMU in 2009, but lost in the lower courts. Ward and her attorneys, the Alliance Defense Fund, a legal organization that works to uphold the rights of religious college students and faculty, appealed to the U.S. Court of Appeals for the Sixth District.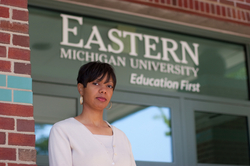 Photo courtesy of ADF
EMU has said Ward was dismissed for violating the code of ethics of the American Counseling Association.
The American Civil Liberties Union and the ACLU of Michigan filed a friend-of-the-court brief in February supporting what it said was EMU's right to require Ward, who was training to become a school counselor, to follow curricular requirements, including not discriminating against potential clients.
Michigan Attorney General Bill Schuette earlier this year released a statement supporting Ward.