Posted on
Mon, Jul 8, 2013 : 9:40 a.m.
Authorities: Water heater likely the cause of house explosion
By John Counts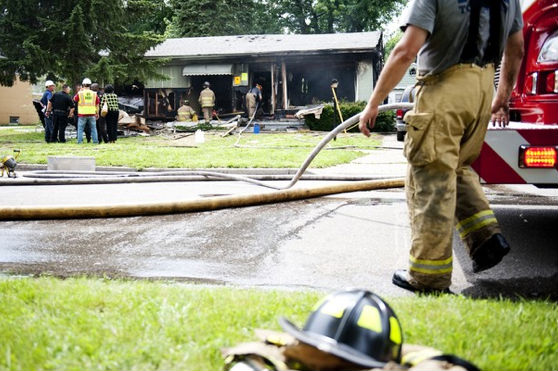 Daniel Brenner | AnnArbor.com
A water heater is likely to blame for the explosion that rocked an Ypsilanti Township neighborhood Sunday, officials said Monday morning.
A man who lives at the home in the 1300 block of Gattegno Street told authorities he had been having trouble keeping the water heater in the basement lit and was trying to re-light it Sunday, said Ypsilanti Township Fire Marshal Vic Chevrette.
"He took about five steps away and the explosion occurred," Chevrette said.
The gas-powered heater, which is about five to 10 years old, has been recovered by fire and insurance company investigators, who are trying to determine if the regulator may have been left open.
"The only source (of the explosion) we had was the water heater," said Chevrette, adding the stove was ruled out because it's electric and the furnace was not running.
The gas lines going into the house were also checked for leaks and none were found.
"(This) wouldn't fall on the gas company," Chevrette said.
Detectives from the Washtenaw County Sheriff's Office are also continuing to investigate the matter, Sgt. Geoff Fox said.
The man remains at the University of Michigan Burn Unit, officials said. Authorities were not releasing any updates on his medical condition.
Officials said 911 dispatchers received several calls about the explosion at 11:22 a.m. Sunday. The man was seen running from the residence with his clothes on fire, witnesses said. A woman and infant escaped without injury. The man was later located at the hospital. Authorities said he drove himself there.
John Counts covers cops and courts for AnnArbor.com. He can be reached at johncounts@annarbor.com or you can follow him on Twitter.