Posted on
Thu, Jan 31, 2013 : 2:58 p.m.
Ypsilanti Township homicide victim remembered as outgoing, friendly
By Katrease Stafford
Friends and former classmates of Brandon Wesley Charles, who was shot dead Tuesday night in a car in Ypsilanti Township, remember him as outgoing and athletic.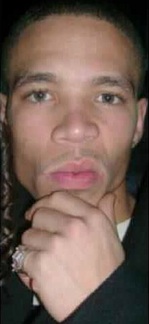 Courtesy photo
Charles was found dead in the driver's seat of a Ford sedan at 10 p.m. Tuesday in front of a home in the 600 block of Calder Avenue. He died from gunshot wounds to his torso. According to deputies, he was visiting a friend at the home.
Thursday morning, Washtenaw County Sheriff's Office Sgt. Geoffrey Fox said no further updates were available. Deputies are actively investigating the case, but no suspects have been identified.
Friends and former classmates of Charles said his death came as a shock. He was well-liked and known in the Ypsilanti area, they said, and recently celebrated his birthday on Jan. 21.
Crystal Burks, a former Lincoln High School classmate and a friend of Charles, said the one thing she'll remember is his personality.
"Brandon was very kind, funny and dedicated," Burks said.
Burks said she remembered Charles asking for help with his homework so he could graduate from high school.
"That showed me he was serious about getting his life back together after a small hiccup," Burks said. "... He was a great friend with a wonderful sense of humor and will definitely be missed."
Coverage of Brandon Charles' death
AnnArbor.com's coverage of the shooting in West Willow that killed Brandon Charles.
Richard Burns, another former Lincoln High classmate, said he and Charles grew up in the same neighborhood.
"We lived in the same neighborhood for most of our childhood," Burns said. "I also did yard work for his parents, too ... . He was a good dude, excellent basketball player, funny, and very outgoing. He was loyal to family and friends. ... (I'm) sad to hear about his death because I knew him since he was 11 years old."
Charles did have previous run-ins with the law. Fox confirmed the Washtenaw County Sheriff's Office had previous contacts with Charles regarding drugs, weapons and assault-related offenses. However, Fox said Charles was not known to be affiliated with any gangs in the West Willow neighborhood.
Before he was fatally shot Tuesday, Charles was shot in a road rage incident in Detroit on New Year's Day. He had been scheduled to testify Wednesday in a court hearing related to that case.
Charles and a woman, who police believe was his girlfriend, were leaving the MGM Grand Casino in Detroit around 3:10 a.m. on Jan. 1 when they were involved in a car accident with a Ford Expedition, Lt. Michael Shaw of the Michigan State Police said.
Charles was shot once and a woman in the passenger's seat of Charles' vehicle was shot nine times. The woman was also scheduled to testify in Wayne County court Wednesday morning in the shooting case.
Police arrested and charged two men, 30-year-old Willie Lee Wimberly, of Trenton, and 33-year-old Steve DeShawn Smith-Rush, of Inkster, in connection with the road rage incident. Both are out on bond.
Mary McPhail-Ciufo, who attended Lincoln Consolidated Middle School with Charles, called his death tragic.
"Brandon Charles had an excellent sense of humor, was a very nice guy, and I remember him being very sweet to his younger sister," McPhail-Ciufo said. "This is an awful tragedy and one that no one deserves to have befallen upon them, least of all a good person like Brandon. (I) extend my condolences to his family."
Katrease Stafford covers Ypsilanti for AnnArbor.com.Reach her at katreasestafford@annarbor.com or 734-623-2548 and follow her on twitter.