Posted on
Wed, Nov 17, 2010 : 10:45 a.m.
New City of Ypsilanti fee on summer festival ticket sales angers event organizers
By Tom Perkins
Event and festival organizers in Ypsilanti are crying foul over the city's plan to take part of their revenue from ticket sales to fund parks improvements.
The city plans to charge a 5 percent fee on ticket sales over the next two years and 10 percent on sales starting in 2013.
A packet distributed before Tuesday night's City Council meeting said the city planned to impose a 10 percent charge on all gross receipts, which would have included concessions and merchandise sales, prompting an outcry from organizers. Council Member Pete Murdock said the intent was never to charge a 10 percent fee on all sales.
Council passed the amended proposal 4-2 on first reading Tuesday night.
No additional fees will be charged for free events, including smaller events like weddings or the Heritage Festival.
The city's parks' budget has shrunk by roughly $35,000 over the last three fiscal years and the new funds will be earmarked for projects like improving lighting, resurfacing blacktop pathways, improving parks buildings or addressing drainage issues. The funds will not be used for regular maintenance items such as mowing grass or emptying garbage cans.
City officials are not sure exactly how much the new fees will generate. That's contingent on ticket sales and accurate reporting from event organizers, which Murdock acknowledged wouldn't necessarily happen. Council Member Brian Robb said he thinks optimistically the new tax would generate $25,000 to $35,000 annually.
Part of the usage fees festivals already pay goes towards items like clean up, utilities and increased police presence, but new funds won't go toward those costs.
Several residents and representatives from festivals, including the ElvisFest and Michigan Roots Jamboree spoke against a 10 percent tax on all gross receipts. Among their primary concerns was that such a fee would drive away festivals. They also complained about what they said was a lacke of input from festival organizers.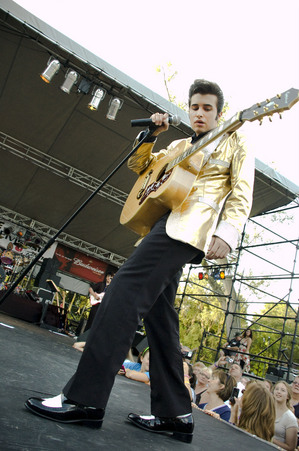 Tom Perkins | For AnnArbor.com
"Where did this 10 percent come from? I know my organization was never approached by the city," said
Don Sicheneder
, who works with the Roots Jamboree. He added he would volunteer to help officials develop an alternative way to generate money.
Robb disagreed that the idea has never been discussed publicly. He offered a list of dates throughout the last year on which a proposed fee was discussed or was in council or Recreation Commission documents.
Addressing concerns that additional costs would prompt festivals to look elsewhere, Council Member Mike Bodary argued that the cost — which would likely be passed on to ticket buyers — was not that significant.
He said an additional 10 percent on a $40 event is only another $4. Murdock later pointed out that for a $10 event the increased cost would only be 50 cents in the first year.
"Is that an event killer?" Bodary asked.
Murdock said he understands that no one likes paying additional fees, but the intent was not to eliminate summer events or festivals.
"I do think this is a way to capture some funds for capital park improvements that we all know are going to be necessary and wouldn't be all that onerous to the patrons of these events, because that's who we know is going to pay it," he said. Murdock first proposed a 10 percent fee in 2011, but amended that after Mayor Pro Tem Lois Richardson and Council Member Dan Vogt voiced concern.
Richardson and Council Member Ricky Jefferson ultimately voted against the final resolution. Mayor Paul Schreiber was absent from the meeting.
"I am also concerned about not imposing burdens," Vogt said. "We're asking them to carry a little extra weight, but we don't want them to collapse under that weight."
When asked what he thought would be a fair increase, Vogt said he didn't have enough information on event ticket prices or how much revenue a feeit would generate. He then suggested incremental annual increases that the city could undo if the economy improved.
Richardson first said she thought 10 percent was too high and suggested a sliding scale that didn't impact the smaller festivals as much.
"Certainly you would expect more from the larger festivals," she said, adding she is concerned because the Heritage Festival, which is the largest of the summer's events, wouldn't be affected.
City Manager Ed Koryzno said city staff members are discussing increasing fees charged to the Heritage Festival.
Eric Dotzauer, director of the Depot Town Community Development Corporation and an organizer with the Roots Jamboree said after the meeting he doesn't believe anyone on council knew how much the new fee would generate and is upset no one consulted with event planners.
"Everybody really found out in the last day or two that this is going on, and (City Council) didn't contact any of the event organizers to get their perspective or ask for better solutions," he said.
Dotzauer said the events in the parks are broken down into four categories based on size and fees collected. He felt the smaller festivals shouldn't be seeing the same increases as larger events.
"I believe if they would have had a discussion with the organizers, then we could have found a much more productive solution for the community and event organizers," he said. "I'm hopeful that we don't lose anybody."
Dotzauer and several others discussed their issues with council members after the meeting. Dotzauer said he spoke with the director of the Michigan Brewer's Guild, who organizes the popular Summer Beer Festival, about the potential increases earlier in the day.
Dotzauer said he is worried the Beer Festival will move somewhere that has better incentives or lower fees, but council members who supported the resolution still contended cost increases weren't that significant.
"We still have the best deal around," Bodary said.