Ypsilanti City Council considering ordinance seeking repeal of city manager residency requirements
Posted on Wed, Oct 3, 2012 : 3:52 p.m.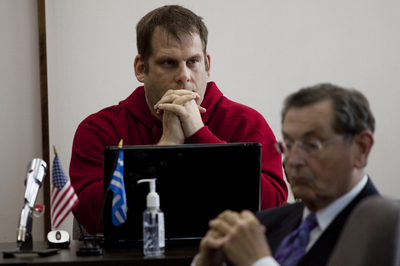 AnnArbor.com file photo
The city of Ypsilanti is considering changing its city manager residency requirements after years of requiring residence within a 25-mile radius of City Hall.
The current city code, which was adopted April 18, 2006, requires the city manager to live within a 25 mile radius of City Hall within 90 days of employment. Ralph Lange officially began as city manager July 30.
In August, council requested an ordinance to review and possibly repeal residency requirements for the city manager after Lange said that his family still lives in Ohio. Prior to coming to Ypsilanti, Lange was the executive director of the Henry County Improvement Corporation in Ohio.
By the request of Lange, City Attorney John Barr prepared an ordinance for council's Tuesday meeting. Previous city manager Ed Koryzno lived in the city limits.
A state law implemented in 2000 states public employers cannot require that a person reside within a specified geographic area or within a specified distance or travel time from his or her place of employment.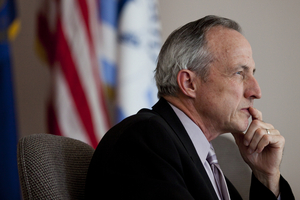 However, that same legislation states a public employer cannot be prohibited from requiring, by collective bargaining agreement, that a person reside within a specified distance from the nearest boundary of the public employer. The specified distance must be 20 miles or another specified distance greater than 20 miles.
Council Member Brian Robb said after initially supporting the ordinance, he now believes creating an ordinance with one person in mind is "bad public policy." Council voted unanimously to table the ordinance on Tuesday.
"That's never a good thing," he said. "We've made provisions that would encourage him to live in the city…. I think we can tailor this to make it still possible to live within the 25-mile radius."
Although he sought the repeal, Lange said he "wholeheartedly agrees" with Robb that the city should not make a specific policy for one individual.
"I did talk to the city attorney as to what counts as residence," Lange said.
Lange currently lives with a friend five minutes away from City Hall and spends four nights a week in the city. However, Lange said he isn't sure how long the arrangement will last.
"I met with one of the downtown landlords who has lofts," Lange said. "If it makes sense and if the right opening comes, I might be interested in that, but I can't keep two properties."
Lange said no matter what council ends up deciding, he plans to make arrangements to have a permanent residence in the city.