Posted on
Sun, May 26, 2013 : 11:01 a.m.
Detroit man accused in robbery setup of EMU students to appear in court Thursday
By John Counts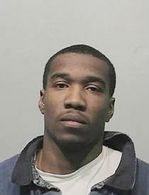 Courtesy of Washtenaw County Jail
A 23-year-old Detroit man facing nine various robbery charges for his alleged involvement in a holdup on Eastern Michigan University's campus in January is scheduled to appear Thursday in the Washtenaw County Trial Court, according to the docket.
Police say Jamill Devon Passmore helped set up a group of four men who were robbed of Rolex watches, Gucci belts and cellphones outside the university's Westview Apartments near Rynearson Stadium on Jan. 18.
Passmore and the four men - Charles Bell, William Gholston, Reggie James and Michael Jefferson -- watched a L.A. Lakers-Miami Heat basketball game at Bell's apartment, according to testimony at the preliminary examination held in March. It was not clear how Passmore knew the men.
All of the men were listed as EMU students on the university's website except James. Gholston and Jefferson began comparing their Rolex watches while the game was on, according to testimony.
Bell and the other men testified that Passmore kept leaving the apartment to walk to talk on his cellphone. Passmore was speaking with two men he'd driven to Ypsilanti with from Detroit, according to police.
Investigators believe the two men Passmore spoke with approached Passmore and the four other men as they left the apartment and were walking to the parking lot around 1:30 a.m. The men testified they were on their way to meet up with some girls at a party.
Gholston said they were only ten seconds out of the door when two men came up from behind them indicating they had a gun.
They said, "Get on the ground. We're not playing," according to Gholston.
"I … froze. I was kind of scared," Gholston said. "I thought he was (going to) shoot me if I didn't give him my watch."
Gholston, Bell and James got down on the ground while Passmore and Jefferson ran, testimony indicated.
The suspects stole Gholston's Rolex and Gucci belt, James' belt and Bell's cellphone.
Meanwhile, Jefferson testified that Passmore attempted to rob him while they ran.
"I slow down," he testified. "I thought he was running with me."
When Passmore caught up with Jefferson, however, he assaulted him and demanded his belongings, according to testimony.
"He grabbed the back of my head and slammed me down," Jefferson said.
Passmore was unable to take his Rolex and fled the scene. Police say he went and met up with the two suspects, one of whom has been identified as Martell Briscoe. Two other men only known as "Dirty" and "Little D" may also have been involved, records indicate.
Police eventually linked the stolen Rolex to Briscoe, who posted a picture of it that same day on his Facebook page. Phone records show Passmore called Briscoe 12 times that night, according to court records.
EMU police Sgt. Charles Mosher testified that Passmore admitted to selling the Rolex at a Hamtramck pawn shop for $1,500.
Authorities also have a recording of a phone conversation Passmore made to an unknown person from jail when he was arrested in Detroit in the middle of February on an unrelated incident.
"Everything … they know everything," Passmore said to the person on the other end of the phone.
Passmore is charged with four counts of armed robbery, four counts of conspiracy to commit armed robbery and assault with intent to rob while unarmed, court records indicate.
He remains in the Washtenaw County Jail on a $75,000 cash bond, according to jail records. He will appear before Judge David Swartz for a pretrial hearing.
John Counts covers cops and courts for AnnArbor.com. He can be reached at johncounts@annarbor.com or you can follow him on Twitter.