Posted on
Mon, Apr 8, 2013 : 5:58 a.m.
Tensions rise, accusations fly over blighted Ypsilanti Township apartment building
By Tom Perkins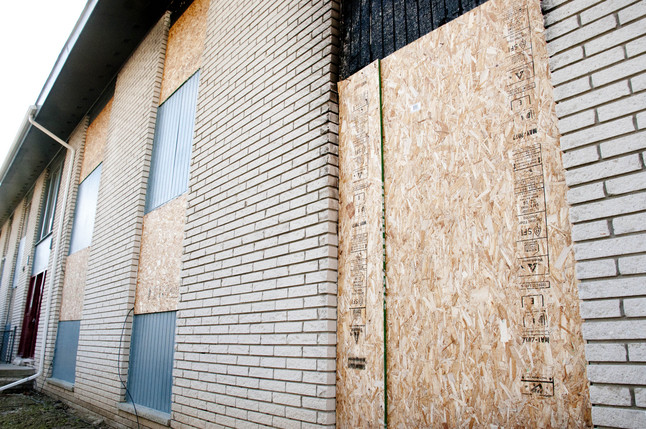 Tom Perkins | For AnnArbor.com
An eight-unit, burned-out apartment building in the Woodcreek Apartments off East Forest Avenue continues sitting vacant after a Molotov cocktail attack damaged it in a July 10 arson.
A building left vacant with no timetable for demolition or repair is rare in Ypsilanti Township, where officials are tenacious in their efforts to quickly address blight.
But this time, the township is caught in the middle of a settlement dispute between an insurance adjuster, Woodcreek management and the building's insurer.
Also at stake is $120,000 in insurance money.
The insurance adjuster, Craig Trombley of American Adjusters, was hired by Woodreek's owner, Ken Sharrock. Trombley is paid a percentage of the $120,000.
The two accuse an Ypsilanti Township building official of putting residents at risk by not requiring the building to be updated to meet the newest fire codes when it's repaired.
Building Inspector Ron Fulton says the renovations he is ordering at the Woodcreek Apartments meet applicable state and local fire codes.
At the heart of the dispute is which set of building codes must be met when a building is renovated after a fire and how much of the building is damaged.
Fulton says he can't demand the rehab meet modern codes, while the adjuster says the modern codes must be followed.
Trombley's job as adjuster is to assess the damage and determine what sort of insurance settlement will cover the repairs — which in this case is more than what the insurance company offered to pay out.
Trombley hired an architect to perform a code review of the property. Based on the findings of that review, Trombley claims Woodcreek deserves a higher insurance settlement than what the insurance company, Hastings Mutual, determined. The difference is Trombley's assertion that the fire suppression system needs updating.
Fulton said Trombley is wrong in his determination that additional work is needed.
"Unfortunately Mr. Trombley is not a code official and is not empowered to make those interpretations," Fulton said.
Trombley argued that current Michigan residential building code requires fire doors, fire suppressant walls, fire stops, smoke control, draft control, sprinklers and more. "They wanted no part of making this building a safer building, as is required by law," Trombley said.
But Fulton said Trombley is going by code for new buildings, and Michigan Building Rehabilitation Code regarding fire safety only requires the installation of hard-wired smoke detectors and carbon monoxide detectors in this case. He said he cannot order the rehabilitation to meet new building standards. The insurance company agreed with Fulton's assessment, not Trombley's.
That dispute led to arbitration between Hastings Mutual and Woodcreek. Based partly on Fulton's assessment, the arbitrator ruled in Hasting Mutual's favor. Trombley said he will appeal the decision to the township and State of Michigan Bureau of Building Codes, if needed.
"I just cannot understand how Ron Fulton would want to ignore any logical reason to bring the building up to code and make it a more efficient and safe building," Trombley said.
The property's owner, Ken Sharrock, claims the building is more than 50 percent damaged, which means it must be brought up to modern codes. Of the building's eight units, four will be stripped down to the studs. Like Trombley, Sharrock is dismayed that Fulton isn't requiring the building be brought up to current codes.
He said bringing the building up to a higher standard increases its value and tax revenue for the township.
"I just want the safest building possible that I can have," he said.
The day after the fire, Fulton and the fire marshal walked the grounds of the fire to assess the damage, as they do with every fire. They found that the building had no structural damage, Fulton said, but determined much of the interior must be stripped down to the studs during renovations to remove smoke- and water-damaged materials.
Additionally, around six to eight trusses were damaged and have to be reconstructed to current code.
But Fulton said it is clear in the Michigan rehabilitation code for existing buildings — a different set of codes from what Trombley is working from — that Woodcreek's damage is considered minimal. If more than 50 percent of the building is damaged, then the newest building codes would apply because the renovation would be considered major.
Because there are no major renovations or structural issues per that code, Woodcreek's management is only legally held to codes that were in place when the building was constructed around 1974, Fulton contends.
Fire doors, sprinkler systems and other fire suppression systems were required only in later building codes, so there is no legal basis for ordering the insurance company to include installation of those safety measures in the settlement, he said.
"What (Trombley) says the building needs is based on code for new construction," Fulton said. "I'm not opposed to it. If code permitted me, I wouldn't object to asking everyone in town to put in fire suppression systems, but I can only go as far as code permits me to go. And it's very clear here; code does not require a fire suppression system within that building."
"I pride myself in knowing the code and there's a fine line to walk between economically oppressive construction requirements and the minimum of the code. And the minimum of the code is designed to keep people as safe as possible," Fulton added.