Posted on
Wed, Dec 5, 2012 : 5:57 a.m.
Ypsilanti officials optimistic about proposed $4M DTE Energy solar project on former landfill
By Katrease Stafford
A project to develop a former Ypsilanti landfill into a future $4 million solar array site that would produce alternative energy for DTE Energy received a green light from the city to move forward.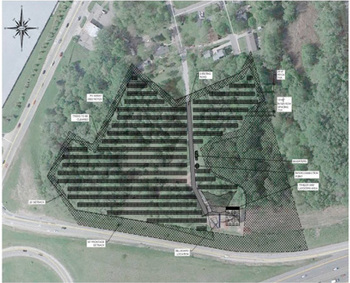 Courtesy City of Ypsilanti
The Ypsilanti City Council voted unanimously Tuesday to approve a letter of intent from from SunDurance Energy, a company that develops, designs, builds and operates megawatt-scale solar power solutions for commercial, industrial, federal government and utility-scale markets.
The company is seeking to install a 1.3 megawatt solar array.
City Planner Teresa Gillotti told council that after the initial AnnArbor.com article ran, another company reached out to her. The company expressed interest in possibly working with SunDurance to submit a letter of intent for the same project and site.
However, Gillotti noted to council that applications from companies interested in building solar projects are due to DTE before the end of December, so she isn't sure what will come out of this inquiry.
The proposed Ypsilanti project would cover about 4.5 acres of the 7-acre property near Spring Street and just north of the westbound Interstate 94 Huron Street exit.
The city would lease the property to the company for $9,778 per acre, or $44,000 a year. A one-time construction payment of $20,000 must be made within 30 days of the execution of the lease.
The city receives $35,000 per year for the lease of the existing, large digital billboard that is currently on the property. City officials said the billboard would not be affected by the solar project. Both leases together would generate about $75,000 per year for the city.
Mayor Paul Schreiber previously told AnnArbor.com he thinks the project will be a good revenue source for the city.
SunDurance became interested in the Ypsilanti area after DTE announced a request for proposals for the development of a megawatt, or larger, solar array that will produce energy for its existing energy grid.
Since the letter was approved by city council, the project will move forward. Gillotti told council that the DTE project is fairly "aggressive" and the results will be known soon.
Phase one proposals are due by Dec. 21 and DTE will notify its "short list" of possible sites they are moving forward on Jan. 18. DTE would decide soon after, and the targeted construction and completion date is Dec. 31, 2013.
If this project is chosen by DTE, the company will build it and turn it over to DTE, who would then own the equipment. SunDurance will be responsible for all costs and the performance of all work related to the design and construction of the system. DTE will be responsible for all operation, monitoring and maintenance costs.
The project would require a 20-year lease between the city and DTE with the potential to extend for 10 or more additional years.
Although DTE was originally seeking proposals from the Detroit area, city officials are fairly optimistic about the project. The exact number of how many proposals will be approved is not yet known, but DTE is looking to develop more than one solar array project in Southeastern Michigan.
If the project is chosen, it would then go before the planning commission to address any zoning questions. It would come back again before council and a public hearing will be held.
Council members inquired about how the city came to the asking price for $44,000 a year for the 4.5 acre site and Gillotti said comparisons were made to other similar sites. Gillotti said other sites with similar projects ranged from asking for $1,500 per acre up to $10,000 per acre.
One stipulation of the letter of intent is that DTE will be responsible for all personal property taxes that are assessed. Since recent legislation has moved forward to possibly eliminate the tax, council was concerned as to whether the city would be able to collect.
"They would be required to do some payment in lieu of taxes," Gillotti said. "If we set this up thinking we're going to get property taxes and its gone next year, we would still get some similar payment."
Per the agreement, DTE would be responsible for a payment that would equal to that of the personal property tax upon point of completion. It would be subject though to current depreciation in subsequent years.
Council was in agreement that the project was a good idea and City Manager Ralph Lange noted that the SunDurance offer was much better than the one received by another company.
"(City staff) worked really hard," Lange said. "I'm a huge fan of solar. It's a lot of work and it's a huge project."
Since the project is a former landfill, work will have to be done to assess how contaminated the land is.
"It's very well fairly treed and there is some brush," Gillotti said. "All of that would be removed. There would be a change in landscape there."
The city purchased the landfill prior to 1949 and it was closed between 1957 and 1967. City records show the closure did not include a formal sealing or capping of the landfill and the property is known to have environmental contamination, but it is not known to what extent.
However, initial conversations with Michigan Department of Environmental Quality staff indicate a solar array may be a feasible use of the landfill, as it may not require disruption or release any contaminants on the site.
Solar Ypsi Founder Dave Strenski, who has spearheaded many solar initiatives within the city, played a behind the scenes role in all of this according to Gillotti.
"This project was very unexpected," Gillotti said. "...Strenski was the first person to mention it."
Strenski vocalized his support for the project.
"I think it's a fantastic project," Strenski said. "It's a great land use... I calculate that this solar farm would be enough to power about 240 homes. I think it would be a way to promote more people to do it."

View Proposed solar array in a larger map
Katrease Stafford covers Ypsilanti for AnnArbor.com.Reach her at katreasestafford@annarbor.com or 734-623-2548 and follow her on twitter.