Posted on
Thu, Apr 19, 2012 : 6:33 p.m.
Eastern Michigan University appoints Robert Heighes police chief
By Cindy Heflin
Robert Heighes, who has been serving as interim police chief at Eastern Michigan University since December, was named to the permanent post Thursday.
Heighes, 57, is a 28-year veteran of the department and served three stints as interim chief. His appointment as police chief and executive director of public safety is effective Friday and is subject to approval by the EMU regents. Heighes will make $128,000 per year.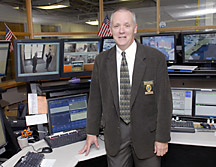 EMU photo
"This is a very important position for Eastern Michigan, and we feel strongly that Bob Heighes will continue the excellent work he's done in overseeing our public safety efforts," Roy Wilbanks, chairman of the EMU Board of Regents, said in a news release. "EMU is a special place, and Bob, who is an EMU alumnus, knows it so well. He has an exceptional history here in a variety of law enforcement roles."
"I care a great deal about EMU and the welfare of our students and employees," Heighes said. "I am proud and honored to be selected."
EMU President Susan Martin praised the decision.
"I am delighted with the selection of Bob Heighes as our chief of police," she said. "Bob knows and loves the campus, and our police force team has done great work."
EMU conducted a national search for the position and named five finalists, including Ypsilanti Police Chief Amy Walker.
Heighes was appointed interim chief after the suicide of police Chief Greg O'Dell in December. Heighes made $120,000 as interim chief. O'Dell made $149,000.