Posted on
Fri, Dec 23, 2011 : 5:09 p.m.
EMU Police Chief Greg O'Dell mourned after his death at age 54
By Kyle Feldscher
Eastern Michigan University police Chief Greg O'Dell died Friday at the age of 54 after an apparent suicide just west of Ann Arbor, police confirmed late this afternoon.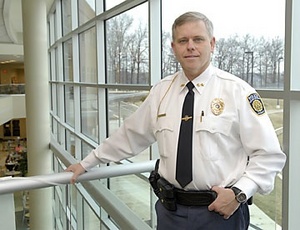 Courtesy of EMU
Washtenaw County Sheriff's Office spokesman Derrick Jackson said Ann Arbor police received a call from a family member at O'Dell's home Friday morning reporting a possible suicide note. Jackson said police later found O'Dell's vehicle near Huron River Drive west of Wagner Road.
Jackson said police found O'Dell dead of an apparent suicide when they arrived in the area.
Police had the area near the scene closed off since 12:30 p.m. and are continuing to investigate the incident. Jackson said police are continuing to look for information about the incident.
The news left Washtenaw County's law enforcement community mourning a respected colleague who'd been active in this community for more than 30 years. At least one officer was seen in tears at the scene.
Saline police Chief Paul Bunten knew O'Dell since he began working at the Ann Arbor Police Department and was extremely shocked when he heard the news Friday. Bunten said O'Dell was a wonderful human being, a very bright and smart administrator and a real good police officer.
"He was able to deal with very difficult issues and he made them look so easy, to be honest with you," Bunten said. "I'm just so saddened by this."
O'Dell had just returned to EMU as police chief after a three-month stint as police chief of the University of Michigan Public Safety Department.
At the time, he told AnnArbor.com, "The complete driving force in making this decision is I just really had an opportunity to return to a job that I loved. There wasn't any bad thing about Michigan, I really loved it. I've had a career now where I've worked in four different police agencies and I've loved every agency I've been with.
"Given where I'm at in my career, I think returning to Eastern is the best decision for me to make at this point."
O'Dell had been in law enforcement for 30 years, spending the majority of that time with the Ann Arbor Police Department. O'Dell was with the AAPD for more than 20 years and ended his tenure there as the deputy chief of police, also serving as interim police chief.
He spent three-and-a-half years in charge of the EMU Department of Public Safety before coming to the U-M Department of Public Safety.
O'Dell graduated from Eastern Michigan and received a law degree from the University of Toledo. He also graduated from the FBI National Academy and the EMU school for police staff and command.
Detective Don Lupi, of the Saline Police Department, said he and O'Dell worked on a case together 18 years ago and O'Dell never forgot him afterward. He said they had run into each other at a number of events over the years and O'Dell always made time for conversation.
"I worked with him back in the Ann Arbor days when he was a polygraph operator," Lupi said. "He was a top-notch investigator and a top-notch guy."
Lupi said one of the most inspiring things about O'Dell was how he always made time for lower-ranked officers as he moved up the chain of command.
"It didn't matter how high he moved up the ladder," he said. "Greg always had time for people on the front line and it was inspiring for us."
Bunten said he and O'Dell often played golf and had just spoke with each other a few days ago. Bunten said there was no indication when they spoke that something was wrong.
EMU president Susan Martin issued this statement Friday evening: "We are profoundly shocked and saddened by this news. Chief Greg O'Dell's death is an enormous loss to Eastern Michigan University and the Washtenaw County area. Chief O'Dell was wonderful man who was deeply admired for his tremendous contributions to the Ann Arbor and Eastern Michigan communities.
"He was respected both as a caring person and as a highly accomplished police officer. He was a beloved and key member of the leadership team of Eastern and I will personally deeply miss him. Our thoughts and prayers go out to his family and friends at this very difficult time."
Roy Wilbanks, chair of the EMU Board of Regents, called O'Dell "a professional in every sense of the word" and said he made a tremendous impact at the university.
"Chief O'Dell will be missed by all of us here at Eastern," Wilbanks said in a statement. "Our thoughts and prayers are with his family at this difficult time."
Many Washtenaw County law enforcement officials offered their condolences to O'Dell's family.
Ypsilanti Police Chief Amy Walker said O'Dell was a friend of hers that she had worked with closely during his years at Eastern Michigan. She said the Ypsilanti police would offer their assistance to O'Dell's family and the EMU community in whatever way they could.
"He was my friend and I am deeply saddened," Walker said. "My prayers go out to his friends and family. He was a true professional."
"I'll miss my friend and all we were able to do," she added.
Washtenaw County Sheriff Jerry Clayton called O'Dell an excellent law enforcement official and said he would be deeply missed.
"Greg was a good friend and this is a tremendous loss to law enforcement in Washtenaw County and most importantly his family," Clayton said. "We offer our prayers and support to them."
O'Dell's former colleagues at the University of Michigan were also shocked and saddened at the news of his death Friday. The university issued this statement through spokesman Rick Fitzgerald: "All of us at the University of Michigan express our deepest condolences to the family of Greg O'Dell."
"We also express our sincere sympathy to his many friends, colleagues, and to the entire law enforcement community."
"Greg was a good man. He will be missed."
Officials from Ann Arbor police declined comment when reached Friday afternoon. Police Chief Barnett Jones and Deputy Police Chief John Seto were unable to be reached.
Resources exist in Washtenaw County for people who may be experiencing thoughts of suicide. Anyone in that circumstance is urged to get immediate help. 1-800-273-TALK (8255) is a 24-hour National Suicide Prevention Hotline (Military veterans press #1 ). 734-662-2222 Ozone House is a 24 hour hotline for youth. 734-996-4747 is a 24-hour hotline at U of M Psychiatric Emergency Services.
Kyle Feldscher covers cops and courts for AnnArbor.com. He can be reached at kylefeldscher@annarbor.com or you can follow him on Twitter.