Posted on
Tue, Apr 16, 2013 : 2:59 p.m.
Eastern Michigan University board plans to renew Susan Martin's contract on May 10
By Kellie Woodhouse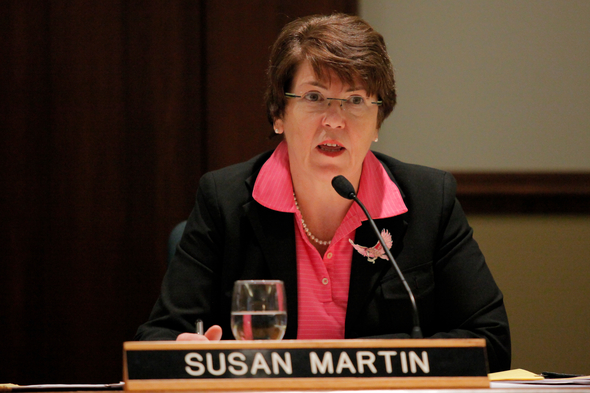 Melanie Maxwell I AnnArbor.com file photo
Eastern Michigan University Board of Regents chairwoman Francine Parker says it is the board's "full intent" to renew President Susan Martin's contract.
During a Tuesday meeting, the school's eight-member governing board announced it will hold a special meeting on May 10 to discuss Martin's employment status with the university and the terms of a contract extension.
The board had originally intended to discuss Martin's contract at during the April 16 meeting, but delayed the vote due to "scheduling challenges," Parker said.
"I want to reiterate that President Martin continues to have our full support," Parker said.
Martin has led EMU for five years. The board has already extended her contract once, in 2010, for two years. Martin's existing contract expires July 7.
Martin said she plans to stay on as EMU's leader.
"I am thrilled to be here. I love Eastern and I am really looking forward to an exciting fall. It's great to have their full support," Martin said in an interview Tuesday. "We're thriving. We're growing. A lot of institutions aren't. But we have to be really careful with our resources."
Although regents say they will extend Martin's contract, it's unclear what the terms of an extension —including length, salary and benefits— would be.
Martin earns nearly $310,000. She is eligible for a $10,000 performance bonus in July, to be awarded at the discretion of the board.
During the regents meeting, Martin praised the university's progress over "the last five years," including enrollment increases, new campus buildings and faculty hires, and said EMU's campus is experiencing "a time of great momentum."
"Together we will continue to create opportunities for people to achieve their dreams and provide an accessible, affordable and excellent education," she said.
Kellie Woodhouse covers higher education for AnnArbor.com. Reach her at kelliewoodhouse@annarbor.com or 734-623-4602 and follow her on twitter.