Posted on
Sun, Apr 14, 2013 : 5:58 a.m.
EMU regents expected to extend President Susan Martin's contract
By Kellie Woodhouse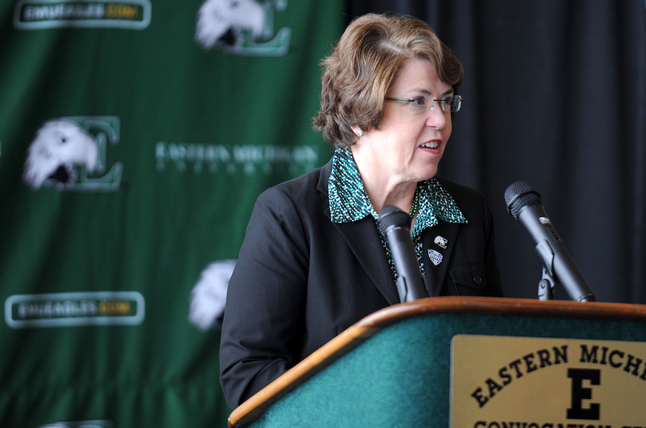 Angela J. Cesere | AnnArbor.com file photo
Eastern Michigan University
President
Susan Martin
's contract is expiring in July and the Board of Regents is poised to extend it— possibly even as early as the board's public meeting Tuesday.
While Martin and the eight-member board have at times had strained relations during her five-year tenure —the board in May reprimanded her for an argument she had with an alumnus and has told her to improve communications with regents— board chair Francine Parker says the governing body has confidence in Martin.
"The board is 100 percent behind Susan Martin. Each and every one of us," Parker said.
The board is looking to discuss Martin's contract Tuesday, but the vote may be delayed. Martin's contract is expected to be renewed, multiple sources confirmed.
Many on EMU's Ypsilanti campus credit Martin for bringing stability to the school, which has had two presidents resign in the last decade, one for his part in the cover-up of a student murder on campus and the other for overspending on the president's house.
Martin has been praised as a visible leader. She's won the respect of alumni, in part for reintegrating EMU's former Huron mascot, and helped the school reach record fundraising levels in 2012. Martin's accessibility isn't limited to stunts like rappelling off a building alongside ROTC students; student government President R. Matthew Norfleet says when he calls her office, he often gets an appointment by the next day.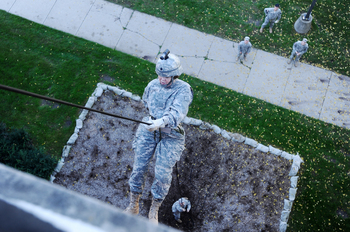 Melanie Maxwell I AnnArbor.com
Under Martin's guidance, undergraduate enrollment has increased by 9.5 percent since fall 2008, with one of the largest freshman classes in college history matriculating last fall. Dorms are fuller than they've been in a decade. EMU's largest classroom building and its science complex have seen multimillion dollar renovations. In 2010 Martin froze tuition rates. The school dipped into reserves by $2 million in fiscal 2012, but is on track for a balanced budget this year.
"I have been here since 2005. I've gone through three or four presidents, three or four provosts, a couple of scandals and it's only been in the last several years, under the leadership of Susan Martin, that things have stabilized enough and the college has moved forward in a positive direction," said Perry Francis, a counseling professor and vice president of the faculty senate at EMU.
"That's not to say that the president hasn't had her moments that I'm sure she'd rather forget," he said, "but show me any leaders who haven't had moments they'd like to forget."
Francis praised Martin's ability to relate to alumni, manage the school's budget during difficult economic times and create a leadership team. Since Martin began leading the school, state funding for EMU has dropped from $78.6 million to $66.5 million.
Since 2008 Martin has hired a new provost, general counsel, head of of government relations, chief fundraiser and vice president of communications. She also hired Robert Heighes as EMU police chief after former chief Greg O'Dell's death.
Norfleet said Martin is respected by students and cognizant of their needs.
Faculty union president Howard Bunsis, a business professor at EMU, declined to comment for this article, saying "it's a board of regents decision."
EMU figures
18,927 undergraduates enrolled in fall 2012
4,620 graduates enrolled in fall 2012
3,531 freshmen enrolled in fall 2012
Average undergraduate is about 24 years old
88 percent of students are from Michigan
3,761 students living on campus
Average faculty salary is $77,900
$290.6 million 2012 budget
$66.5 in 2012 state appropriations
$11.5 million raised in fiscal 2012, $2 million over goal
37.2 percent six-year graduation rate
12.9 percent four-year graduation rate
EMU settled three union contracts last summer, including a contract with faculty. While negotiations were at times tense —in July a plane circled over the Ypsilanti campus carrying a banner proclaiming "President Martin unfair to clericals"— the board praised Martin and her bargaining team, calling the agreements a notable achievement. Another 4-year contract with lecturers was settled this winter.
Martin declined to be interviewed prior to Tuesday's board meeting.
While Parker says the board is supportive of Martin, the governing body took one unusual step regarding Martin's performance.
In May 2012 the Board of Regent's executive committee placed a letter in Martin's personnel file reprimanding her for an argument at a bar with an alumnus and mentioning previous incidents relating to alcohol. They threatened to fire her if there was ever another incident.
Martin has been told to better consult the hands-on board more often when making decisions. In Martin's early reviews, board members were frustrated by a perceived lack of communication. By the 2010-11 year, such issues seemed to be lessening as Martin began to send the regents weekly updates. But by October 2012 the board, in a review, characterized Martin's communication with regents as "inconsistent."
In the October review the board chided Martin for failing to complete a strategic review of the school on time and not reviewing certain university functions seen as flawed. The review also instructed Martin to develop a collegial environment among her executive staff and told her to complete evaluations for her staff, which she did not do one year and was late completing another year. The board pushed for her to improve EMU's stagnant four-year graduation rate, which is 12.9 percent.
Martin earns nearly $310,000 under her existing contract, which expires on July 7. Martin's contract originally expired in July 2011 but was extended in December 2010 for two years.
She is eligible for a $10,000 performance bonus in July, to be awarded at the discretion of the board.
If Martin's contract is renewed, she'll have to guide EMU through an increasingly complex higher education environment.
The board is looking at her to grow the school's graduate programs and strengthen its graduation rates. To do that, the school must continue to streamline its academic advising and widen its outreach. Faculty leaders, including Bunsis, are calling on EMU to increase the number of tenure-track faculty that teach at the college. Colleges nationally are looking at how they can leverage online education.
With an uncertain future for public higher education funding, EMU will try to continue to grow its endowment, which now sits at about $51 million. Martin and the board must strike a delicate balance with tuition increases, as state lawmakers are setting caps on the amount schools can raise their tuition and receive full funding. Martin would also be tasked with implementing a strategic plan that has taken years to develop.
While Martin wouldn't speak for this story, she did tell AnnArbor.com in a recent interview that the job of leading EMU is rewarding.
"It's the most challenging job of my life," Martin said. "...No one can describe the job. It changes every day. It's been the most meaningful and rewarding job. Eastern had a lot of challenges when I came and we've accomplished so much."
Kellie Woodhouse covers higher education for AnnArbor.com. Reach her at kelliewoodhouse@annarbor.com or 734-623-4602 and follow her on twitter.