Posted on
Thu, Apr 21, 2011 : 3:53 p.m.
Eastern Michigan University to freeze administrator pay
By Cindy Heflin
Eastern Michigan University plans to freeze administrators' salaries for the next fiscal year as part of its effort to deal with a projected cut of at least $11.4 million from the state.
President Susan Martin made the announcement in a message to faculty and staff. She said the pay freeze was part of initial actions the university is taking to deal with an expected 15 percent cut in its state appropriation.
Besides freezing the pay of all employees not covered by union contracts, Martin said the university would also eliminate cell phone reimbursements except for public safety employees.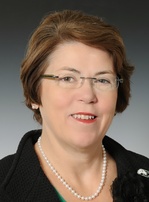 Also, presidential approval will be required for all international travel and honorariums and to fill open positions.
The salary freeze affects about 260 employees of the university, said Todd Ohmer, assistant to the vice president for business and finance at EMU. Ohmer said that represents a savings of $580,000, assuming the employees would have received a 2 percent raise next year.
Ohmer said a 1 percent raise for administrators was delayed from July 1 to Jan. 1 this year. Administrators were also eligible for a half-percent bonus.
Ohmer also said in the 2009-10 fiscal year, the 100 top-paid administrators did not receive a raise. The rest received raises ranging from 2.5 to 3 percent.
Cutting the cell phone reimbursement will save about $200,000, Ohmer said.
Gov. Rick Snyder has proposed significant cuts to the state appropriation to universities. Under the plan, the state would cut EMU's appropriation by $11.4 million or 15 percent if EMU keeps its tuition increase at 7 percent or less. If the university increases tuition by more than 7 percent the cut would be $14.7 million. Tuition for next year is expected to be set at the board of regents meeting June 21.
For the current fiscal year, EMU kept its tuition and room and board rates flat.
The university announced April 15 it would increase room and board rates for next year 2.15 percent.
The university will hold a budget forum Wednesday, May 4, from 10-11 a.m. in its Student Center Auditorium.
Cindy Heflin is a news producer at AnnArbor.com. Reach here at 734-623-2572 or cindyheflin@annarbor.com.