Eight candidates running for four Ypsilanti Township trustee seats
Posted on Sun, Jul 29, 2012 : 5:57 a.m.
Four candidates are challenging four incumbents for four seats on the Ypsilanti Township Board of Trustees Democratic primary.
Three candidates are members of the "Y-Town Future" slate of 10 candidates, while former Ypsilanti City Council member Trudy Swanson-Winston also is running.
The Y-Town Future candidates all say the township should have prevented blight from ever occurring, while the incumbents have argued that it is impossible to foresee the fallout of the economic crisis and know when a property owner or bank plans to walk away from their home.
The incumbents have pointed to what they say is a comprehensive and effective blight reduction task force that has been successful in addressing a complex issue.
Y-Town Future candidates also say the township needs to attract business by partnering with other organizations in the community and marketing the township, while incumbents pointed to examples of their partnerships and say they have attracted businesses through incentives and by maintaining township services despite economic challenges.
Residents will vote on the candidates during the Aug, 7 Democratic Party primary.
Incumbents
Mike Martin
Ypsilanti Township Trustee Mike Martin is completing his first four-year term. Martin, 61, manages the largest private sector Teamsters' union in the nation, which involves work in contract negotiations and conflict resolution.
He highlighted several of the board's accomplishments over the past four years, including proactively maintaining and improving township roads.
"The Washtenaw County Road Commission has said when we complete our current schedule of updates, we will have the best roads in Washtenaw County," he said.
He also pointed to the township's success and "innovative" approach in developing new health care contracts with its employees that met the state's new requirements, maintained its employees benefits and saved tax payers hundreds of thousands of dollars. Martin took the lead on that effort.
Tom Perkins | For AnnArbor.com
The two biggest issues facing the township are blight and job creation, Martin said. He said the township has put in place the right solution to stabilizing neighborhoods and is quickly working toward that end. In response to Y-Town Future accusations that leadership should have prevented blight, he said blight prevention is a challenge and easier said then done.
"Blight is not an easy issue to conquer because it is not something that can be addressed proactively. It is something that must be reacted to," he said. "You cannot determine preemptively that a blighted situation will be occurring.
"How do you know before it happens that someone will walk away from a home or business, or that a bank will not maintain the investment it has in a property? It only becomes visible once the damage has been done."
Martin said the township has also "opened its gates" to new and growing businesses through a combination of tax incentives, offers to expedite the building process and incentives designed to entice business "without giving away the farm."
"We will continue to explore any feasible option as long as it is a responsible approach and is in the best interest of the township residents. There is no easy or obvious answer to job creation or it would have been solved on the national level as well as the state and local levels," he said.
Stan Eldridge
Eldridge, 50, is seeking re-election for a third time after being appointed to the board in 2004. He is a retired Ypsilanti Police Department officer and current college baseball coach.
Like other incumbents, he said he feels that the current board works well together and has seen success in meeting the township's challenges.
"The economic conditions within our state have been difficult for all municipalities, however, our current board and the employees of the township have worked well together to minimize the impact on our community," Eldridge said.
Photo Courtesy of Ypsilanti Township
He counts the township's neighborhood stabilization and blight reduction efforts among those successes, though he said another component that must be focused on is assisting residents with foreclosure issues so they can stay in their homes. He pointed to the township's current efforts to do so, including partnering with outside organizations and the Washtenaw County Treasurer's Office.
Eldridge said he believes the township is approaching the blight challenge in the best way possible. He said staff works diligently with residents to resolve blight issues, though they are also equally diligent in working through the court system if a property owner is unresponsive, thus reducing the impact on neighbors.
"The work done by our community in regard to blight enforcement is now being used as a template by other communities around the county and state, which is a great example of our community being on the right track," he said.
The board has also largely been successful in maintaining service levels while balancing their budget in the face of cuts from the state level, Eldridge said.
He said the township has been able to retain many businesses and is starting to attract new ventures. The township has forged partnerships with SPARK East, Eastern Michigan University and is a partner on the Aerotropolis project, which has partners that include multiple municipalities and is geared at vast development along the Interstate 94 corridor.
"This will enable us to work in conjunction with one another to bring work back to the General Motors facility at the eastern edge of the township," Eldridge said. "Ypsilanti Township has much to offer to prospective businesses and many are beginning to once again take notice."
Jean Hall Currie
Hall Currie, a realtor, has served on the Ypsilanti Township Board of Trustees for 20 years. She says she is seeking another term because she believes in the job the current board is doing and wants to remain a part of that group.
She said the township has been successful in cutting costs without cutting services, invested heavily in maintaining roads and created an effective team to fight blight.
She also said foreclosure and blight issues are the biggest challenges facing the township, and said the board and staff are taking the right approach in addressing those problems.
"The solution is to continue to hold banks, landlords and owners accountable for keeping their properties clean," she said.
Like other incumbents, she said the township has been effective in attracting business by partnering with Ann Arbor Spark and joining the Aerotropolis project, and said the township must also make retention calls.
Scott Martin
Martin, 55, is seeking his first re-election after being appointed to the board in April 2011. He previously served on the Ypsilanti Township Park Commission and works as utilities director for Scio Township.
He also highlighted the township's progress incumbents say has been made making in stabilizing neighborhoods and improving roads and infrastructure. He said the board is doing this while facing similar issues to other communities in having to do more with less money and resources.
"We have a proven record to show we are competent in our job, from having the best roads in Washtenaw County to an annually balanced budget to fighting housing blight and adding deputies to patrol our community. The list goes on," Martin said. "This board is not afraid to ask each other what they think is best for our community. No one on this board is self-serving and we work hard as a team."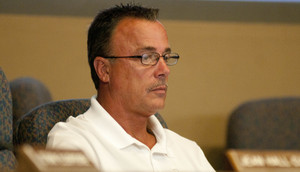 Tom Perkins | For AnnArbor.com
He said the township has been effective in addressing blight by partnering with residents who are the "township's eyes and ears regarding blight."
"The township has proven that it is willing to hold banks and property owners who neglect properties responsible for the damage they cause the community," Martin said.
He added that the blight reduction efforts along with the infrastructure updates have made the township an attractive spot for new businesses.
"Businesses see this and it makes them feel secure to bring their investment into our township," he said. "Investing in our community is the best way to have business invest in us."
Challengers
Carlton Fields
Fields, 32, is a teacher in the Ypsilanti area whose notable political experience includes serving as vice-president of the Alcorn State student body for three years. He says the township is in need of a change of leadership that will provide "a fresh outlook on our diverse community that has not been represented in our local government" and be responsive to the needs of township residents.
Fields is part of the slate of 10 Y-Town Future candidates and says that group is seeking to rebuild partnerships with neighboring communities and organizations and regularly meet with school districts, neighborhood groups and the business community.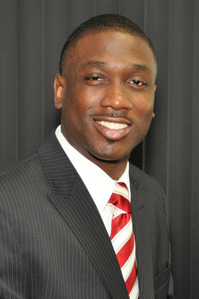 Tom Perkins | For AnnArbor.com
He questioned why the township passed up on job creating opportunities such as Menards and Costco, which he said would have offset the loss of other businesses like Tyner Furniture.
Fields said the loss of business is leading to the loss of income and contributing to the township's foreclosure issues, and he suggested developing a comprehensive marketing plan that focuses on development on the Washtenaw Avenue and Michigan Avenue corridors.
"The township has not been an attractive investment due to our bad name throughout the state. We can assist in bringing in new business by just simply being friendly to governments," he said.
Y-Town Future has also contended that the township should have prevented blight from occurring, and Fields also argued that point.
"We do not want the taxpayers paying for expensive litigation to fight the blight in our neighborhoods. If the township had enforced the ordinance and code over many years ago, we citizens would not have to bear this burden," Fields said.
Maria Sheler-Edwards
Sheler-Edwards is taking her first run at public office in her bid for an Ypsilanti Township trustee seat as part of Y-Town Future, but she said her fresh perspective and new ideas would be an asset.
She said her experience helping spearhead projects and seeing improvements in her neighborhood groups were part of what encouraged her to work for progress on a larger level.
Photo Courtesy of Maria Sheler-Edwards
Sheler-Edwards, 44, is a senior communications specialist at the University of Michigan and has spent her career in marketing and public relations. Like Fields, she said she believes the township can improve how it promotes itself and must build better relationships within the region.
"We can't wait for business to come to us - we need to introduce ourselves and show why Ypsilanti Township is a good investment," Sheler-Edwards said. "There is no reason this township can't attract the same economic development that we've seen springing up all around us."
She cited an example of a former Busch's grocery store that left the township and remains abandoned, then pointed to a recent Detroit News story on Canton Township's supervisor recruiting a Busch's. She questioned why the same didn't happen Ypsilanti Township.
"Why wasn't the township able to retain a business that was already located here, and why haven't we been able to fill this vacancy (and many others)?" Sheler-Edwards asked.
She said the township needs to be more proactive in preventing blight and work with owners to keep properties on the tax rolls. She also said the township needs fairer and more consistent ordinance enforcement, and suggested the township "create an atmosphere of safety" by improving streetscapes, developing a downtown development authority and seeking grants to help make improvements.
Like other Y-Town Future candidates, she sought to highlight that the group is representative of the entire township.
"This group represents the whole township," Sheler-Edwards said. "We are diverse in every meaning of the word. We ten candidates give a voice to everyone in Ypsilanti Township, and everyone gets fair representation."
Sylvia Spurlock
Spurlock, 66, is one of three Y-Town Future trustee candidates on the ballot. She works as an administrative assistant and said her previous political experience consists of serving on her neighborhood's home owners' association board.
Like other Y-Town Future candidates, she said the township is on the decline and in need of fresh ideas. She highlighted the diversity of Y-Town Future's slate and said the group has been meeting weekly to discuss how to take the township a new direction.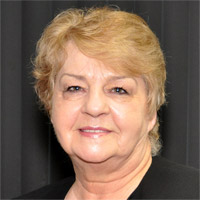 Courtesy of Y-Town Future
Spurlock said the township needs to partner with other communities and entities and aggressively market the township, especially the Michigan Avenue and Washtenaw Avenue corridors. The business districts need improved signage, sidewalks and street lighting, Spurlock said.
"Many believe that Ypsilanti Township is too difficult when dealing with new businesses," she said. "Look around our community and other communities. You will see new businesses coming to surrounding communities, by-passing Ypsilanti Township. Why?"
Spurlock also contends that the township should have been paying closer attention to blight issues in the past and prevented the issues from ever happening. She said taxpayers are now paying a high price through litigation.
The Y-Town Future group would create fair and consistent ordinances to help improve the blight situation, Spurlock said.
"Many changes have happened in Ypsilanti Township and, unfortunately, we have seen a steady decline in many areas over the past 20 years," she said.
AnnArbor.com was unable to reach Swanson-Winston for comment. She served on the Ypsilanti City Council for 15 years, most recently as mayor pro tem, before deciding not to seek re-election in 2010.