Posted on
Wed, Jun 5, 2013 : 5:58 a.m.
Ypsilanti residents concerned as council rejects emergency moratorium on medical marijuana facilities
By Katrease Stafford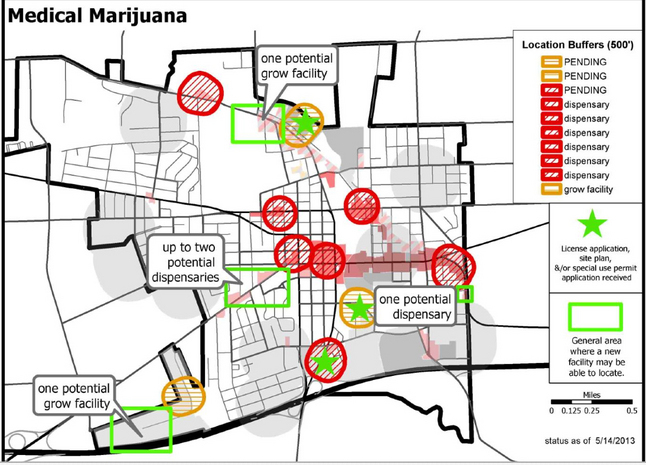 Courtesy Ypsilanti
Ypsilanti will not impose an emergency moratorium against new medical marijuana dispensaries and grow facilities, despite pleas from several residents to consider the ordinance.
"All of these drugs right now are tearing up our community," said Ypsilanti resident Brian Foley, who has lived in the city for 53 years. "I'm a recovering addict. I know the pain of addiction and we have a lot of pain on my side of town. I'm a lifelong resident of Ypsilanti. I don't want my city to be known as the dope capital of the midwest."
Council member Ricky Jefferson and Mayor Pro Tem Lois Richardson brought forth the ordinance on May 21, which requested no additional permits and licenses be granted related to medical marijuana for 60 days until city staff reviews the present density of licenses already granted.
To impose the emergency ordinance, it would have taken four-fifths of council to vote in favor of it for it to pass. Jefferson, Richardson and Council Member Susan Moeller voted in favor of it. Mayor Paul Schreiber, Council members Brian Robb and Daniel Vogt voted against it. Council Member Pete Murdock abstained.
"I am very moved by the fact that the citizens don't want to see these businesses by their homes," Moeller said.
Council originally voted to table the ordinance at the May meeting.
Jefferson said his main concern and drive to propose the moratorium was based on what he believes is a high number of facilities located within Ward 1, which he represents.
"This thing was kind of backdoored on us," said Ypsilanti resident Ken Harrison. "I remember going to Abe's Coney Island one day and then the next thing I knew, it was a (marijuana) facility in the back. We have halfway houses, assisted living facilities popping up everywhere. It's time we're notified prior to these things coming up."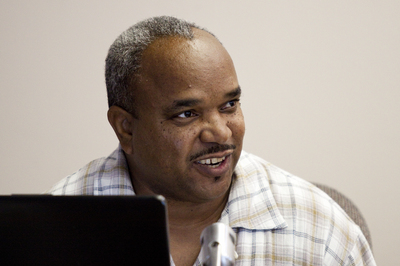 Ypsilanti has the following dispensaries and grow facilities within city limits:
Ward 1 has two dispensaries, with one potential dispensary. The ward also has one grow facility and one potential grow facility.
Ward 2 has one dispensary.
Ward 3 has three dispensaries and one potential grow facility.
Several community members attended the May 21 and June 4 meetings to voice their disapproval of more dispensaries opening in the community — particularly Ward 1.
Yet, some residents and dispensary owners had a different belief and stated the businesses are good for the city and local economy.
Ypsilanti resident John Evans, who gave a presentation Tuesday entitled the "History/Synopsis of Medical Marijuana" is in favor of the facilities. Evans is a medical marijuana activist and medical marijuana patient.
"I'm here telling my city council that i want to be progressive," Evans said. "That's how social change works. We don't wait for Washington. Saturation should be defined by the free market in a capitalist society."
Ypsilanti business owner Dave Heikkinen said business owners in the downtown district had initial concerns about Herbal Solutions, at 124 W Michigan Ave, opening, but he said no issues have been reported.
"We had concerns when this whole thing took off," Heikkenen said. "We had a town hall with Herbal Solutions. Like it or not, we've lived harmoniously since they opened up."
Jamie Lowell of 3rd Coast Compassion Center, a dispensary, said he believes a town hall meeting should be held so both sides can discuss their concerns.
"If we could do a town hall or some meeting outside of this to examine what are our serious issues, we could learn more about this together and move forward," Lowell said.
Rick Thompson, a parent of an Eastern Michigan University student and a Clear Channel radio show host said "a vocal minority should not be allowed to rule over a vocal majority," citing Ypsilanti's recent measures passed in favor of medical marijuana by residents.
Former Mayor Cheryl Farmer, who is also a practicing physician, is against more dispensaries and facilities opening.
"The idea of adding medical to marijuana was to make it more palatable to the citizenry," Farmer said. "Let's not keep pretending it's medical."
Farmer said the city has more than enough dispensaries and facilities for the entire population of the city.
"We've got plenty to take care of the people in our city," Farmer said. "We don't need to serve Toledo and Detroit. Let's study the issue and decide what we want."
Police Chief Amy Walker said the current facilities have had relatively low calls for service, but she doesn't believe more would be good for the city. Between May 2012 and May 2013 all of the city's medical marijuana facilities received only five calls.
"That's my personal opinion," Walker said. "I do believe marijuana is a gateway to heavier drugs and we have a hard enough time fighting the drug problem (we already have.) I understand the hot topic it is, but in my humble opinion, there are plenty dispensaries to go around these four square miles. I don't think the city wants to promote itself as medical marijuana mecca."
Reverend Garther Roberson of the Mt. Olive Baptist Church at 718 North Prospect, said he's lived in Ypsilanti for more than 85 years and believes the city must do more to prevent a rising number of new medical marijuana facilities.
"I've watched this great city as we've had ups and downs," Robeson said. "Marijuana in itself isn't the bad thing, it's the question of what it leads to. Why must it be on the south side?"
Katrease Stafford covers Ypsilanti for AnnArbor.com.Reach her at katreasestafford@annarbor.com or 734-623-2548 and follow her on twitter.