Posted on
Sun, May 12, 2013 : 5:59 a.m.
Susan Martin's mission: Boost EMU enrollment, graduation rates and finances
By Kellie Woodhouse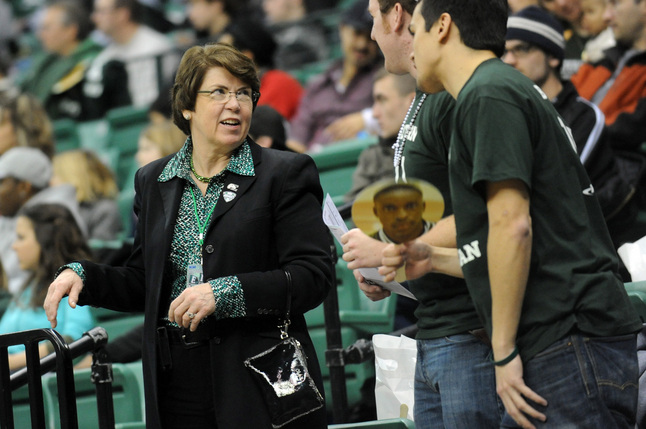 AnnArbor.com file photo
While there have been some bumps along the road during Eastern Michigan University President Susan Martin's five-year tenure, regents credit her with creating a more stable college environment, and for that they've awarded her a two-year contract extension and a raise.
The eight-member Board of Regents also said it's solidly behind her and not looking back. "I am focusing on the future," said Regent Jim Stapleton Friday as the Board of Regents approved the contract extension.
The contract renewal, which includes a 2.7 percent raise and a year of sabbatical, comes a year after the regents' executive committee placed a letter in Martin's personnel file reprimanding her for arguing with an alumnus at a bar and "acting in a way that was inappropriate for your position."
That incident does not detract from what Martin has accomplished, regents said.
"If you look at where Eastern was when Dr. Martin and our old board took over, and you see where we are now, there's no logical person who wouldn't see that we're a better place," he said. "We have a lot of things we need to improve on, we have a lot of areas where we can grow but we're a better place today than we were five years ago."
Martin came to the university on the heels of two controversies: a student murder coverup and overspending on renovations to the president's house. Each controversy caused a president to resign. When she arrived on campus, enrollment was declining and buildings were falling apart. Simple things like Internet service in on-campus dorms, which sat largely unfilled, did not work.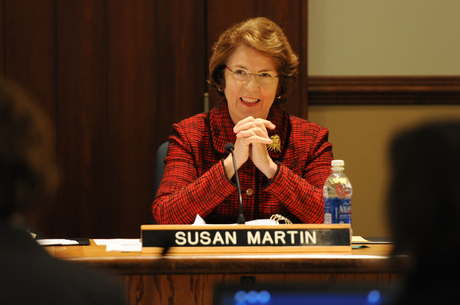 "When Dr. Martin came to the university, it really was at a time that I think required healing and development," said Board Chairwoman Francine Parker, who was one of the three regents on the executive committee to sign the May 2012 letter of reprimand:
"One of the things I credit her with is being a galvanizing force, bringing people together on issues, not skirting them, working to make the university about growth. looking at our academic programs, looking at our infrastructure."
EMU figures
18,927 undergraduates enrolled in fall 2012
4,620 graduates enrolled in fall 2012
3,531 freshmen enrolled in fall 2012
Average undergraduate is about 24 years old
88 percent of students are from Michigan
3,761 students living on campus
Average faculty salary is $77,900
$290.6 million 2012 budget
$66.5 in 2012 state appropriations
$11.5 million raised in fiscal 2012, $2 million over goal
37.2 percent six-year graduation rate
12.9 percent four-year graduation rate
Since coming to campus, Martin has increased undergraduate enrollment by 9.5 percent, although graduate enrollment has declined, and this year she poured $400,000 into furniture for on-campus dorms in order to convert single rooms into doubles and house more students.
Regents say they want continued focus on increasing enrollment and renewed focus on growing EMU's limited financial reserves through spending cuts, innovative resourcing and fundraising. Graduation rates, which sit below 38 percent for six-year students, also need to improve.
"We're always worrying about gathering up funds and people making contributions, but also just continuing to just improve the academic performance and the opportunity for students to succeed," said regent Mike Morris, who also sits on the executive committee.
EMU is in the midst of overhauling its advising program as a way to help students coordinate their class schedules and take the necessary classes to complete their majors within a timely manner. Officials are hopeful improvement in advising will increase graduation rates. The school is also looking for ways to make it easier for students to transfer to EMU.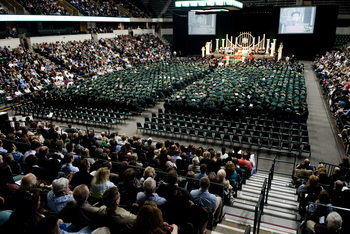 Daniel Brenner | AnnArbor.com
Martin said she's looking forward to new accomplishments, while she savors the past five years.
"It's just been a wonderful experience. A daunting, challenging, impossible, undoable job but great," Martin said of her tenure, during which state funding has declined by nearly $12 million.
"I am a more experienced president. I've got a more experienced team and I think we have some new board members that are bringing a tremendous amount of ability to the board," she continued. "We're in a really good place and we're going to get a lot done."
EMU has a $51 million endowment, and Martin said she will shift more of her time to fundraising over the next two years in order to grow the school's cash reserves. A lack of sizable reserves has been an impediment in budget and facility planning, Martin said.
"We really need to work to build up our endowment, our reserves and also be building a budget that has more room in it," she said.
Board relations
With regents reprimanding Martin for alcohol consumption in May 2012 and placing a mixed performance review in her personnel file in October 2012, Martin's contract renewal seemed somewhat uncertain throughout the past year.
In September 2012 board chair Roy Wilbanks, who has since retired from the board when his term ended in December, told the Detroit Free Press that he was unsure whether he would vote to renew Martin's contract.
Parker, the current board chair, said she considered the letter of reprimand and October performance review basic governance.
"For me, a board — any boss that you have — you discuss things when you have issues," she said. "It's actually refreshing that we ask the questions and raise concerns and want to talk about issues that are of relevance to the university. We're doing our job."
Regent Beth Fitzsimmons, who has served in her role for two years, said she had no issues with Martin's performance.
"I never thought it was a problem," she said.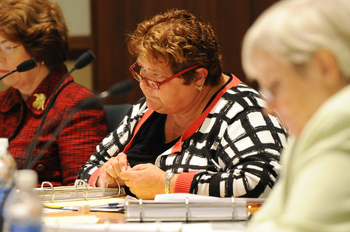 Melanie Maxwell I AnnArbor.com
For Martin's part, she said the board has been "supportive of the administration" at EMU over the past five years and said the board was moving into a new era. She noted that while board involvement is still high, she has been given more autonomy as she gains experience in her role.
Details of the new contract
The two-year extension raises her salary to $300,000, up from from $292,200.
Martin was hired in 2008 under a three-year contract, which was extended by two years in 2010. Parker said the board decided a two-year extension was appropriate.
"We just did two years. Five seems too long; one is never enough," she said. "This is a changing environment in terms of where we are as a university and things we want to do."
Martin's contract stipulates that she is required to live in the president's house on the Ypsilanti campus and that she receive use of a university car.
The contract also appoints Martin as a full professor with tenure —the highest faculty rank possible— of accounting in the business school. It grants her a 12-month sabbatical when she steps down as president, whether she retires or her contract is terminated by the board. If she returns to the university as a professor, for her first year, she will make 10 percent more than the highest salaried professor in her department.
Martin will not be entitled to the sabbatical or faculty position if she is fired for just cause. Among reasons Martin can be fired for just cause is any conduct constituting "moral turpitude" and that "would tend to bring public disrespect, contempt or ridicule upon the university," according o her contract.
Per her previous contract, Martin is eligible for a $10,000 performance bonus in July 2013, to be awarded at the discretion of the board.
Kellie Woodhouse covers higher education for AnnArbor.com. Reach her at kelliewoodhouse@annarbor.com or 734-623-4602 and follow her on twitter.