Posted on
Wed, Feb 13, 2013 : 5:59 a.m.
Eastern Michigan University President Susan Martin falls short of multiple goals in review
By Kellie Woodhouse
Melanie Maxwell I AnnArbor.com
Tension that surfaced between
Eastern Michigan University
's governing board and president last year appears to remain an issue at the
Ypsilanti
school.
In a fiscal 2011-12 performance review, EMU regents said president Susan Martin fell short of enrollment goals, failed to develop a strategic vision for the school and inconsistently consulted regents prior to making decisions.
"All regents should feel informed and updated on all matters requiring board engagement to their particular level of interest and satisfaction," the October 19, 2012, review states. "Performance in this regard has been inconsistent. Board input on significant policy direction merits more serious attention."
The review was obtained by AnnArbor.com through a Freedom of Information Act request. It was signed by former regent Roy Wilbanks and current regents Francine Parker, Mike Morris and Mike Hawks, who asserted that regents were "sometimes not alerted to major issues affecting the campus" and cited Martin's decision to close satellite campuses without informing regents.
Melanie Maxwell I AnnArbor.com
Also in the review, the board praised Martin for exceeding fundraising goals and increasing on-campus housing.
The October review came five months after the board's executive committee formally reprimanded Martin in May for getting into an argument with an alumnus and behaving "in a way inappropriate for your position" which "reflected poorly" on EMU. Martin was drinking alcohol prior to the April argument, according to the letter and Martin's admissions afterward. The board threatened to fire Martin if a similar incident ever happened again.
In the October review, the board said Martin is "without question a visible and active president" but stated that with "visibility comes responsibility to represent the university at all times in the best possible light."
Martin's five-year employment contract expires on July 7, 2013, and is up for renewal in the coming months. She is also eligible for a $10,000 performance bonus in July, to be awarded at the discretion of the board.
Courtney Sacco I AnnArbor.com
Per her contract, Martin's salary is nearly $310,000.
Martin and board members declined to talk about the review. They issued the following statement:
"One of the principal functions of a governing board is to provide annual feedback that ensures goals and objectives are monitored and measured. It is a matter of good governance that should be encouraged at every level and at every institution. As a matter of record, we do not publicly discuss details of job performance evaluations for any employees."
In the review regents asserted that "some goals were met, others not, and in some cases improvement is required."
The board praised Martin for increasing on-campus housing levels, exceeding fundraising goals, reviewing academic programs and reorganizing the way EMU manages student enrollment.
Susan Martin's to-do list
Fiscal 2012-13 goals developed by regents.
Increase credit hour enrollment by 1 percent
Increase graduate enrollment, which is declining
Improve probation, graduation, retention rates
Achieve positive accreditation for Physician Assistant program
Integrate College of Education with charter schools
Complete strategic plan
Achieve a balanced budget
Seek "cost saving opportunities in benefits," including employee retirement.
Plan for next fundraising campaign
Grow endowment
Engage external consultant to improve human resources
"Support a climate and workplace where employees can thrive and support our students"
Improve student services
Evaluate the impact of administrative changes
Increase alumni, faculty and staff participation rates in university advancement
Develop a five-year plan to decrease energy reliance
Improve board relations and communications
Source: Susan Martin FY13 goals.pdf
EMU last year raised $11.5 million in gifts, an increase of $6.4 million from the year before and $2 million above the school's fiscal 2011-12 goal. On-campus housing increased by 10 percent this year, to 3,315 students.
This summer and fall Martin also assisted in reaching a contract deal with three of EMU's labor unions, an accomplishment the board deemed "notable" in the review.
"The planning process, new bargaining team and work done prior to the successful ratification were evident," the review stated.
The review also cited a decline in enrollment, which in part caused EMU to dip into its reserves by $2 million. From fall 2010 to fall 2011, credit hour enrollment decreased 1.4 percent. "We expect that a strategy to address this matter is forthcoming," the review states.
The shortfall was the first budget deficit of Martin's tenure, the review states. According to a December financial report, the school's budget is balanced this year. Enrollment is up by 4,650 credit hours.
The review said that while EMU increased its six-year graduation rate last year, four-year rates have been stagnant. EMU's current six-year and four-year graduation rates are 37.2 percent and 12.9 percent, respectively.
The review said Martin hadn't presented a strategic plan for the school, which she was supposed to have completed by June 2009. "This goal remains unmet," the review states. "This should remain an area of focus for you and the institution as a whole."
The regents wanted Martin to evaluate services provided to students and staff, such as the ombudsman and human services offices, but said in the review that Martin failed to complete those tasks. Regents also told Martin she did not properly handle layoffs and payroll issues.
Evaluations were also an area where Martin didn't meet goals. Regents want Martin to evaluate her leadership team, offer professional development and develop a chain of succession.
"You have made a number of leadership changes. It is important that those leaders are evaluated," the review states, explaining that Martin did not complete fiscal 2010-11 evaluations and, as of October, was late in completing 2011-12 evaluations.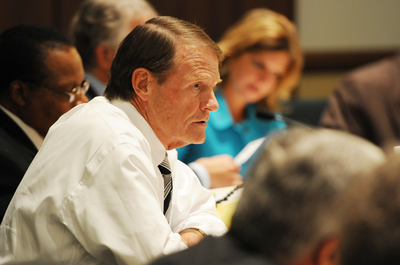 Melanie Maxwell I AnnArbor.com
The review continued: "Developing a collegial environment within your executive council will be important. All members of the team should feel encouraged and supported."
On September 18, 2012, regent Beth Fitzsimmons said in an interview that she thought Martin's contract would likely be renewed this year.
"I don't know of anything other than that," Fitzsimmons said, adding that in an informal June conversation board members "all said we supported her."
Also in a September 18 interview, regent Thomas Sidlik said "things couldn't be better" at EMU, and noted the uptick in enrollment EMU experienced this fall. Sidlik has since retired from the board. He asserted that the May letter reprimanding Martin was "a bump in the road."
The review, authored a month later, paints a different picture.
"Some goals were met, others not, and in some cases improvement is required. A clear focus should remain on goals that are important and unmet as well as a commitment to devote attention to areas that require your improvement," the review states. When listing goals assigned but not completed, regents included "board relations and communications."
"Board members not equally consulted on matters," the list states. "Lack of follow through on key issues. Represent university in a positive manner at all times."
Kellie Woodhouse covers higher education for AnnArbor.com. Reach her at kelliewoodhouse@annarbor.com or 734-623-4602 and follow her on twitter.