Posted on
Mon, Aug 30, 2010 : 9:15 a.m.
Eastern Michigan University, professors still 'far apart' on new contract
By David Jesse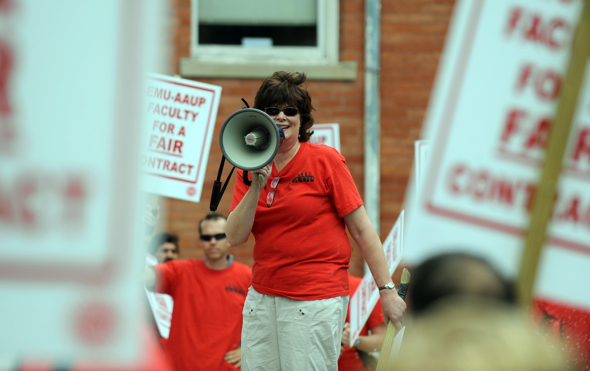 Lon Horwedel | AnnArbor.com
The faculty union and Eastern Michigan University remain "far apart" in their negotiations on a new contract, union President Susan Moeller wrote to her members in an e-mail Sunday evening.
"We are still far apart and the administration is still offering the faculty a pay cut. We are very frustrated, angry, and worried about whether faculty can afford the increased cost of health-care premiums that the administration wants us to pay and without giving us an across-the-board raise."
The administration sounded a more positive tone.
"Progress is being made," said university spokesman Walter Kraft this morning. "We are, both sides, really working to put something together. Everyone will continue to do so."
The two sides will get back together at 11 a.m. this morning. The administration is expected to issue a counteroffer on compensation.
Negotiating teams spent much of the weekend bargaining. The existing contract expires at the end of the day Tuesday. A noon meeting has already been called for Tuesday for union members. If a contract agreement isn't in place, the faculty will be asked to authorize a strike at that meeting, the union has said.
In updates sent out after Sunday's session, both sides said some progress had been made, however, both admit they're far apart on the two big issues - pay and how much union member will pay for their health care.
Among the recent developments:
The administration has offered a $500 one-time addition to the base salary to help offset increases in health care costs for the faculty.
Agreement was reached on various issues around the health-care plan, including on pharmacy co-pay levels.
The union has reduced its pay proposal to include a 3.75 percent raise for each of the next three years, down from raises of 4 percent and higher. However, the administration is still sticking to its offer of 0 percent, 1 percent and 1 percent raises.
The sides don't have any agreement on an administration plan to offer a one percent pay raise each of the three years tied to enrollment and state appropriation numbers.
While the negotiations are ongoing, both sides continue to issue various releases and documents.
Over the weekend, the union sent out a message claiming that the university was spending its money on football and not on raises.
On Monday morning, the administration issued a report saying that faculty compensation per full-time equivalent is greater at EMU than at peer institutions. The union has said compensation lags that of peer institutions.
The union is still urging its members to be at the noon meeting Tuesday and to also attend a rally at 1 p.m. Tuesday in front of the administration building.
"First, the administration can afford to pay us what we have asked for to cover health-care costs and to give us a raise. EMU is in good financial shape," Moeller wrote. "They just choose to spend money on other things.
"Second, this increase in costs could result in some faculty having trouble making mortgage or rent payments. While on average the administration is asking for a $1,650 increase in payments from the faculty for health care, for families this is much higher. Could you afford having over 5% of your salary going to pay for health care premiums next year alone and unexpectedly at that? No one can."
David Jesse covers higher education for AnnArbor.com. He can be reached at davidjesse@annarbor.com or at 734-623-2534.