Posted on
Wed, Nov 21, 2012 : 5:59 a.m.
Family Dollar closer to becoming first development on Water Street in Ypsilanti; 2013 target open date
By Katrease Stafford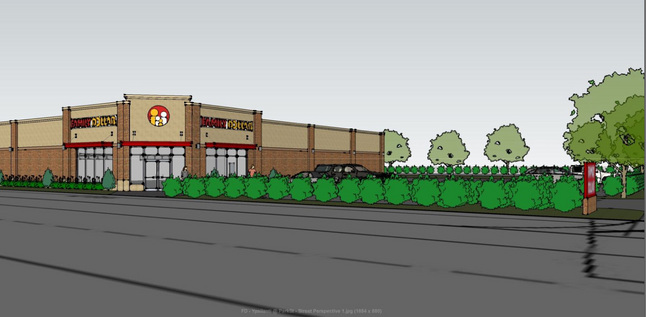 Courtesy City of Ypsilanti
A development project that will bring one of the nation's largest retail discount chains to the long-vacant Water Street property in Ypsilanti is one step closer to reality.
The Ypsilanti City Council voted 4-1 Tuesday to approve a letter of intent from Core Resources, Inc., on behalf of its client Family Dollar Stores of Michigan, to purchase 1.25 acres of the 38-acre site. Mayor Paul Schreiber and Council Member Susan Moeller were absent from the meeting.
Despite the approval, several community members came to the meeting to voice their displeasure about a discount store opening on Water Street.
The property is currently owned by the city and Core will pay $210,000 to purchase the land. Since the letter of intent was approved by council, the property will be effectively removed from the market for three months. The letter of intent is non-binding for both parties, but does signal interest in moving forward with the project.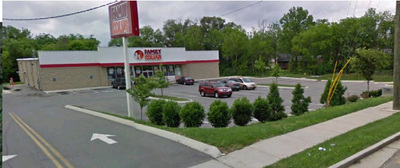 Courtesy City of Ypsilanti
Core Resources Representative Bill Tippman said Family Dollar will invest at least $800,000, not including land cost, in the construction and development of the property. Tippman said the overall investment could exceed $1.2 million.
Barring any issues, the store is slated to open by August 2013 and will employ between eight and 10 people, some of whom will be part-time employees.
The store will be approximately 8,320 square feet and on the northeast corner of the Water Street site, at the intersection of Michigan Avenue and Park Street.
Some council members questioned the asking price of the property in light of the fact that when Burger King was interested in being on the property, it was willing to pay $400,000. That deal would have generated an estimated $29,500 in tax revenue annually.
The city has long sought development possibilities for the Water Street. The city started acquiring parcels of the Water Street property in 2001 with the expectation that it would quickly attract mixed-use development. Officials thought that development would add to the tax rolls and pay off the bond issued to fund the purchase, but the development never came.
In 2010, the city council unanimously rejected a proposal from Indiana-based Bravokilo, which owns the Burger King on Michigan Avenue near Ecorse Road, to build a new restaurant on one acre of the 38-acre site.
"The previous asking price was $400,000 and the price was reduced to $375,000 for that corner, which was our starting price," said City Planner Teresa Gillotti.
Gillotti said since Family Dollar is willing to invest more in the property in terms of its aesthetics and functionality, the city was willing to negotiate the price.
City staff will work with Core and Family Dollar to move the current offer into a formal development within that three month period. The agreement would then be brought to council, and a public hearing will be held prior to any formal sale of the property.
"There is a public hearing that is required per city council resolution and it's basically setting up the transaction for the sale of the property," said Gillotti. "After that step, then we get into all the formal approvals."
Jeffrey Smith | AnnArbor.com
Core Resources Inc. and Family Dollar have negotiated the initial terms, including a concept site plan for the property and related building elevations for the potential development based on draft zoning for the Water Street development.
Gillotti, who has worked closely with Core and Family Dollar representatives, said the transaction would be market-rate, with no infrastructure or other costs to be incurred by the city.
Family Dollar will pull required utilities from either Park Street or Michigan Avenue and would not require the development of nearby Parsons Street.
The taxable value for the property is expected to be between $350,000 and $500,000, Gillotti said, and should generate about $30,000 in taxes.
One element of the proposal that concerned council was that Family Dollar is requesting a deed restriction that will prevent other similar discount stores from opening on the entire 38-acre site.
"It's a large investment on Family Dollar's part," Tippman said. "To be the first in the door, they want to make sure they're not going to be undercut."
Gillotti said the city will work to put a clause in effect that would stipulate that the restriction would be lifted if Family Dollar were to leave the property.
Council Member Brian Robb said he supports the idea, but he will be looking to make a few changes.
"I think the ultimate thing we have to answer is does this fit what we want," Robb said. "(If) this is what we wanted six years ago… I'd be willing to support starting to negotiate but we will give Ms. Gillotti a long list of things we expect to come out of it."
Since the initial announcement of the possibility of Family Dollar locating on the site, many local business owners and community members have expressed displeasure at the plans. Several of those individuals came to the meeting.
Leslie Leland, co-owner of MIX in downtown Ypsilanti at 200 W. Michigan Ave., said she was shocked to hear about the possibility of the store opening on Water Street.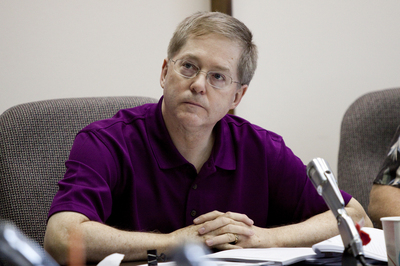 File photo
"When we started talking about it in our store, the consensus is just absolute negativity," Leland said. "My question is, what has been done to try to recruit other businesses for this area? I think this town can move forward with something more creative and more interesting."
Leland said she would rather see a grocery store on the site.
"Something that would be interesting and that can draw people from around the communities," Leland said. We're creating a vibrant downtown and I just feel Family Dollar expresses poverty and discount."
Tippman said Family Dollar's target customer base is single mothers who make less than $40,000 per year and for this particular location, individuals who live within a one-mile radius of the store.
Richard Murphy, vice chairman of the planning commission, said he is interested in looking at the long-term prospects for the site.
"When this does come to planning commission, I'll be interested in seeing the durability and longevity and how it contributes to a walkable street scape," Murphy said. "... The next step I suggest is we need to make clear what our expectations are for the rest of the site."
Dave Heikkinen, owner of Heikk's Decorated Apparel Studio at 133 W. Michigan Ave., said he was disappointed in the decision and believes the Ypsilanti area will be over-saturated with Family Dollars. The Ypsilanti area has two locations already at 1001 Emerick St. and 1821 E. Michigan Ave.
"The face of Water Street is going to be a Family Dollar discount store," Heikkinen said. "I haven't heard anyone excited about it at all. ... Family Dollar insists on stifling any competition from other potential Water Street businesses."
Council Member Ricky Jefferson said he's received a lot of positive responses to the proposed store.
"The majority of the people I've called are glad to see something there that can meet their needs," Jefferson said. "This is a decision not so much settling for anything, but anything that's coming to us. The financing has not been there for banks wanting to back these types of loans. Most of the developers are looking for existing structures."
Council Member Pete Murdock said the Water Street development is one that the city has been wrestling with for more than a decade.
The city is facing $31 million in Water Street debt and will make annual payments that will grow to $1.3 million through 2031.
"The fact is through all those years, we really only had three actual offers for anything on this property despite everyone saying how valuable this is," Murdock said. "Of all three, this actually fits into the original plan more than the others… Whenever someone and puts (something) out there, a pile of people say it's no good. I'm going to support this project."
Council Member Daniel Vogt, who was the lone no vote, said he received a large amount of feedback from individuals within his ward, who mostly were against the idea. Vogt moved to table the resolution, but no one supported it, so the motion died.
"I don't think the decision is easy," Vogt said. "I'm not at all happy with the price."
Tippman said Family Dollar is on a significant growth path and will continue to open stores throughout the country, and perhaps more in the Washtenaw County area.
"They have announced for the past several years that their goal is to operate five hundred new stores a year," Tippman said. "They have hit and exceeded that number... Family Dollar is maximizing opportunities to serve families in urban markets. That is their focus right now."
Family Dollar has 7,267 stores throughout the country and reported $8.5 billion in annual sales and $388.4 million in net income for fiscal year 2011.
Katrease Stafford covers Ypsilanti for AnnArbor.com.Reach her at katreasestafford@annarbor.com or 734-623-2548 and follow her on twitter.