Posted on
Wed, Mar 27, 2013 : 5:58 a.m.
Felony sexual assault charges dropped in exchange for Detroit man's plea to misdemeanors
By Kyle Feldscher
A 19-year-old Detroit man pleaded no contest to two misdemeanor assault charges Tuesday in exchange for the prosecution dropping two sexual assault felonies related to incidents near the campus of Eastern Michigan University.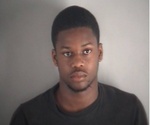 Courtesy of Ypsilanti police
Paul Phelps was originally charged with two counts of third-degree criminal sexual conduct but will instead face sentencing on lesser charges. Phelps pleaded no contest to two charges of aggravated assault Tuesday in front of Washtenaw County trial Court Judge Donald Shelton.
Phelps allegedly forced himself on a 19-year-old woman and a 22-year-old woman at an off-campus party on Sept. 6 and Sept. 7. The 19-year-old woman is a student at EMU and the 22-year-old was a former student who intended on registering for classes again, according to police.
Despite the plea to lesser charges, Phelps still is facing a lengthy period behind bars.
Last week, Phelps pleaded guilty to five counts of first-degree home invasion and one count of second-degree home invasion for break-ins at six Saginaw Valley State University dorms, according to an MLive report.
First-degree home invasion carries a maximum of 15 years in prison. Phelps is scheduled to be sentenced in that case on April 29.
In the sex assault cases, police said Phelps met the 22-year-old woman a few days before a Sept. 6 party. After the party, friends dropped the woman off at her home in the 300 block of Jarvis Street and Phelps came over a short time later. He's accused of sexually assaulting her then.
The next night, Phelps is accused of sexually assaulting the 19-year-old woman in the 900 block of Railroad Street.
Both incidents were reported in the hours after they occurred and police said the women did not know each other. Police found Phelps' cellphone number in both of the women's phones.
A no contest plea is not an admission of guilt, but instead shows the defendant will not fight the charges. However, it is treated as a conviction for the purposes of sentencing.
Washtenaw County Assistant Public Defender Gina Noveskey asked Shelton to accept the plea.
"Mr. Phelps would like to plead no contest based on potential civil liability," she said.
Phelps was scheduled to go to trial at 8 a.m. April 15, court records show.
Phelps is listed in state records as an absconder from probation for a 2011 unarmed robbery in Oakland County. He was arrested in the Ypsilanti cases after being tracked down by the U.S. Marshals Fugitive Task Force in Detroit.
Shelton accepted the plea and set sentencing for 1:30 p.m. April 16. Phelps faces up to a year in jail and $1,000 in fines.
Kyle Feldscher covers cops and courts for AnnArbor.com. He can be reached at kylefeldscher@annarbor.com or you can follow him on Twitter.