Posted on
Mon, Jul 1, 2013 : 2:03 p.m.
First day for new Ypsilanti Community School district: 'Our work really begins now'
By Amy Biolchini

Amy Biolchini | AnnArbor.com
At 12:01 a.m. Monday, the Ypsilanti Community Schools district was born.
The district's seven-member Board of Education met for the first time 8 a.m. Monday the YCS Administration building - formerly the Ypsilanti Public Schools Administration building - at 1885 Packard Road.
A product of two school districts that many believed could have ended up in the hands of a state-appointed emergency manager, the consolidated school district is now what its leaders hope is a fresh start for the community east of Ann Arbor in Washtenaw County.
"This day could have looked really different," said Trustee Maria Sheler-Edwards. "Instead of a celebration it could have been a lot of tears and packing and questions. … The net outcome is extremely positive for our kids."
Board members are Sheler-Edwards, Don Garrett, Daniel Raglin, Gregory Myers, Celeste Hawkins, Tony VanDerworp and David Bates.
The board on Monday hired back 294 teachers, counselors, speech and language pathologists, social workers, principals, assistant principals, administrative support staff, paraprofessionals, technology department staff, building secretaries, custodians, maintenance staff and groundskeepers that were recommended for re-hire after a detailed selection process.
In May, the consolidated district announced it would offer 171 jobs back to teachers. According to the staffing plan released Monday, there are 182.15 full-time equivalent general education classroom teachers in the district that will be paid for by non-grant funds.
Overall, 419.75 FTE employees will work for YCS that will be paid for out of the district's general fund. The district will employ additional employees that will be paid for by grants.
Amy Biolchini | AnnArbor.com
Though the district will be starting fresh with
new names, mascots
and leadership, the debt that plagued the two former districts will be carried over for YCS to pay down.
Trustees adopted a $49.31 million operating budget for the 2013-14 academic year that shoulders an $11.2 million deficit from both former school districts. Though revenues are projected at $50.31 million, the surplus will be used to pay off the debt.
The mood at the meeting was celebratory: Balloons, banners and a cake sporting the new district's colors and logo decorated the room.
Stickers with the YCS logo were also available that many attendees put proudly on their lapels. To begin the meeting, State Rep. David Rutledge, D-Ypsilanti, administered the board members their oath of office.
Immediately afterward, the board elected Bates as its president and Garrett as its vice president.
School board leaders began the process of consolidating the school districts with trepidation and a great deal of suspicion from community members, Bates said.
"We've had a long rocky relationship in both communities between the school boards and the communities," Bates said.
Bates is the former Board of Education president for Ypsilanti Public Schools. Bates said he believes that public opinion has turned around due to the hard work of the school boards.
"Today is not a total realization of this vision, but our first opportunity to begin to execute it as a new school district," Bates said. "Our work really begins now."
The financial issues that previously plagued Ypsilanti and Willow Run are up to the new district to overcome, with a payment schedule of $1 million per year plus interest to fund a negative $10.2 million in the district's primary savings account.
To manage its cash flow issues, the school district is preparing to borrow money.
"In order to be able to make payroll for the year, most districts borrow from the state to get the cash to be able to operate," said Superintendent Scott Menzel. "As a deficit district, ours is a little bit more complicated as to what we're able to borrow compared to what we need to borrow in this transition."
Menzel, who is also the superintendent of the Washtenaw Intermediate School District, said YCS needs a little more than $17 million to be able to pay its bills in its first year, but the district is only authorized to borrow up to $15.9 million.
The district's administration is working with the State Treasury Department to develop a strategy to address the extended repayment period for the district's operating deficit, Menzel said.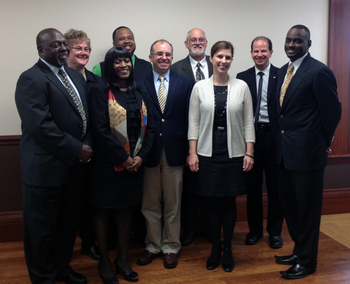 Amy Biolchini | AnnArbor.com
The budget has been adopted with the assumption that YCS will receive a basic foundation allowance of $7,563 per pupil and that about 4,100 students will be enrolled in the district, as well as 175 special education students.
The basic foundation allowance is higher for YCS than it was for Willow Run Community Schools ($7,310 per student) and Ypsilanti Public Schools ($7,513 per student).
Trustees voted on a number of business items Monday necessary for the start of new business in the district, including adopting new building names for its high school and middle school and assigning contracts for basic services.
Chartwells has been hired after a Board of Education vote Monday as the management organization for food service throughout YCS. Staff positions will be posted this summer.
The consolidation means that Chapelle Elementary, Cheney Elementary, Ypsilanti Middle School and Willow Run High School will not be used by the new district in the 2013-14 year. However, the 2013-14 budget shows YCS's facilities cost is about $387 higher than the state average - an item that leaders recommended the board review thought the next year.
The inaugural meeting of the YCS Board of Education was bittersweet for some.
"Today is a great celebration … it's a little bittersweet because there are some people who aren't here today that got us to where we are," said Trustee Daniel Raglin.
Vice president Garrett said he and Associate Superintendent Laura Lisiscki committed to the consolidation because it was the best thing for the students in the district.
"We took hits in the community. It is kind of hard, going to the grocery store, to church, to school, public events and you hear people talking about … 'Why do you want to get rid of our district?'" Garrett said.
"This is a good day," he continued. "This is bittersweet, like Mr. Raglin said, because there was a lot of people who put a lot of legwork in to this and they're not here - but we all knew that going in. I appreciate the community and the board for doing everything they've done."
The YCS Board of Education will meet at 6:30 p.m. on the first and third Mondays of every month in the professional development room of the YCS Administration building at 1885 Packard Road in Ypsilanti.
Raw video: The YCS Board of Education sings "Happy Birthday" to Trustee Maria Sheler-Edwards and then to YCS.
Amy Biolchini covers Washtenaw County, health and environmental issues for AnnArbor.com. Reach her at (734) 623-2552, amybiolchini@annarbor.com or on Twitter.