Posted on
Mon, Feb 11, 2013 : 5:58 a.m.
Ford Lake Frozen Leap participants to plunge into icy water for charity
By Katrease Stafford
The Ford Lake Frozen Leap is back for a fifth year and attendees can expect to see a number of people — and possibly one special celebrity guest — jump into the icy lake for a good cause.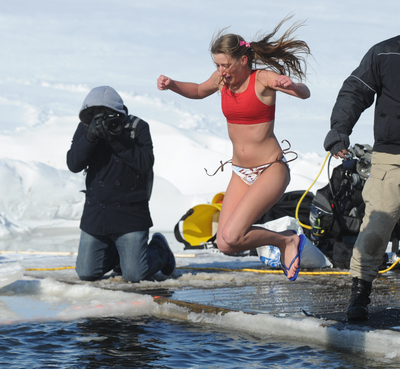 AnnArbor.com file photo
The event organizers are seeking to raise $20,000 for the Ypsilanti-based service organization SOS Community Services.
Tim Adkins, co-founder of Pakmode Media + Marketing, said his organization has partnered with Lakeshore Apartments again for the Ypsilanti Township event. Pakmode and Lakeshore are co-founders of the annual event.
"The two of us really started it and have grown over the years," Adkins said. "This is our second year fundraising for SOS. The first three years were for the Washtenaw County American Heart Association."
Mike Hart, a former star running back for the University of Michigan and current Eastern Michigan University running back coach, will be the celebrity judge for the "Best Leap" contest. Adkins said Hart will also jump in the lake if at least $15,000 total is raised for the event.
So far, the group has raised $9,500 and has about a week to go in fundraising, Adkins said. Last year the group reached its $10,000 goal on the day of the event, so this year might be on track to raise more money.
"The first couple of years we did it, we didn't really have any goals in mind," Adkins said. "We just wanted to raise money for a good cause locally and have fun. As the years progressed, we said let's be a bit more strategic about it."
Adkins said SOS was chosen because he, his business partner, Bilal Saeed, and Lakeshore believe in the group's mission to decrease homelessness in Washtenaw County.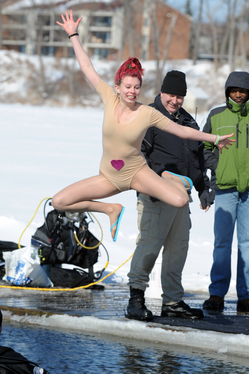 AnnArbor.com file photo
In 2012, the SOS food pantry served 7,571 people, an increase from 7,390 in 2011. During its last fiscal year, SOS housed 44 families, and 253 people in total, through temporary housing programs. A total of 36 families moved into permanent housing.
SOS also helped 123 homeless children through programs such as after-school tutoring. On average, SOS houses 60 families each year.
Twenty-one teams are registered this year and 67 individual fundraisers. Adkins expects between 40 and 50 people to jump into the icy water. The rest are participating to raise funds for SOS.
"One hundred percent of what we fund-raise has a direct impact on our local community," Adkins said. "It's just great people doing great things."
Adkins said the EMU football team has a team, as does the Washtenaw County Sheriff's office, which has raised $1,200. Adkins said the sheriff's office group, the WCSO Polar Pigs, is one of the top fundraisers.
"We encourage people to dress up in team costumes," Adkins said. "We've had all kinds of fun costumes."
People can sign up for the event right up until the event day, Saturday, Feb. 16. The event starts at 11 a.m. and people will begin jumping in at about 11:15 a.m.
"I think it's pretty cool to have this idea to have a fundraiser for a local non-profit and we've grown every year," Adkins said.
Members of the the Washtenaw County Hazmat Response Team, and members of the Washtenaw County Sheriff's dive team will be on hand for safety precautions. Jumpers will also have access to a warming station.
Chelsea Brown, community relations coordinator at SOS, said the event means a lot to the organization and will allow it to provide more services throughout the year.
"This is a pretty unique event," Brown said. "...Every little bit counts. It's all about working together as a community."
Click below to see a video of last year's Frozen Leap by Groundcover News:
Katrease Stafford covers Ypsilanti for AnnArbor.com.Reach her at katreasestafford@annarbor.com or 734-623-2548 and follow her on twitter.