Posted on
Wed, Jun 20, 2012 : 6:50 a.m.
GM's closed Willow Run factory in Ypsilanti Township to host development open house
By Paula Gardner
The real estate trust charged with selling 89 properties in 14 states as part of the General Motors Corp. bankruptcy is holding a development open house on Wednesday at the closed Willow Run factory in Ypsilanti Township, according to a report in the Detroit News.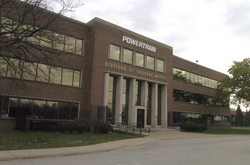 The 5 million square foot factory on the far east side of the township closed in December 2010 during GM's restructuring. It's one of the largest buildings in the world, spanning 1.25 miles.
The open house is hosted by the RACER (Revitalizing Auto Communities Environmental Response) Trust, which was established in 2011 by the U.S. Bankruptcy Court. Its goal is to liquidate GM's excess real estate. According to the Detroit News: "It expects more than 200 federal, state and local economic development leaders, prospective buyers and real estate developers to attend a keynote address by Jay Williams, executive director of the federal Office of Recovery for Auto Communities & Workers, and a panel to discuss redevelopment possibilities."
Read the full story.