Posted on
Sun, Dec 19, 2010 : 9:01 a.m.
GM Willow Run: Memories, history remain as historic manufacturing plant closes
By Nathan Bomey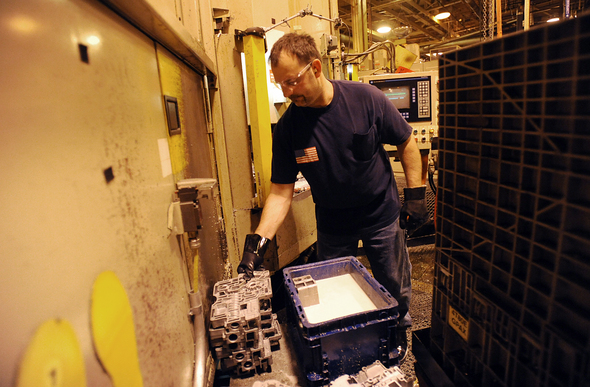 Melanie Maxwell | AnnArbor.com
Half a dozen straw brooms linger mostly unnoticed in a tattered metal bin, reverently almost, as if something important has happened here and, although useless now, they feel like they should stay.
Lockers, scratched and bruised over time, sit mostly empty now -- but for a few locks here or there.
A long-inactive, dusty snack stand -- the kind you'd see at a county fair -- offers a snapshot of what used to be.
A massive conveyor belt still runs slowly, oil-encrusted hulking steel hooks carrying transmission parts here or there. Small signs of life.
Taking one last stroll through General Motors' Willow Run plant before it closes Thursday offers a reminder of what used to be. Painful. Remarkable.
This 5 million-square-foot manufacturing facility -- a massive casualty of GM's contraction and its June 1, 2009, bankruptcy filing -- is soon to be abandoned, becoming the latest victim of Michigan's economic disarray.
The Ypsilanti Township plant's equipment -- machines that built Michigan, machines that built America -- already is being sold off. Some 320 people still work there, down from 14,000 at one point in the 1970s. The last employees will trickle out on Thursday, the plant's final day of operation.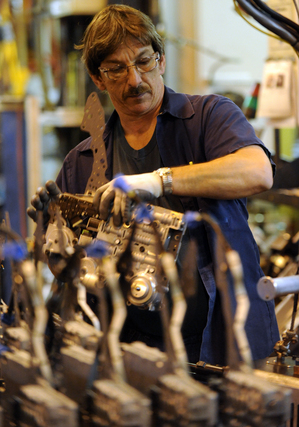 Melanie Maxwell | AnnArbor.com
"I cannot imagine that place being silent," said
Randall Yagiela
, a Tecumseh resident who was an hourly worker and later a supervisor at the plant during his tenure there from 1975 to 1985.
Yagiela was one of countless cross-generational pairings at the plant. His father, Frank Yagiela, worked there from 1953 to 1983.
"I remember him turning and smiling to me and turning and walking out the plant. It was his last time," Yagiela said. "It was quite the day."
It was quite the era.
Sizing up history
The Willow Run plant is one of the largest buildings in the world. It has more square footage than the Willis Tower in Chicago, the tallest building in the Western Hemisphere.
The exterior of the plant is 1.25 miles long, and the facility is unbelievably big. Chances are you've never seen anything like it. The legend is that you can stand in the middle of one of the main aisles, look toward either side and not be able to see the end of the building. Actually, that's not a legend -- that's true.
For many years, workers used bicycles and scooters to get from one end of the plant to the other. Due to safety concerns, 8,000 bikes were given away to charity a few years ago, though a few remain.
An operating room served workers who got injured, a fire department provided emergency services, and massive amounts of food was made and consumed there.
"A small city is what it was," said Glen Weathers, an Ypsilanti resident who has worked at the plant for the last 33-1/2 years. "It was almost unbelievable when you think about it."
When thousands of workers filled the place in years gone by, it was common for employees to quit after their first day, overwhelmed by the size, the noise, the smell, the entire atmosphere.
"I was scared to death when I first started," said Thomas Blasinsky, a Taylor resident and assembly team leader at the site who joined GM 10 years ago.
Imagine, then, what it was like to work at the complex back when Ford Motor Co. owned it during World War II. Henry Ford, in fact, built the plant specifically to produce B-24 liberator bomber planes for the Army Air Corps.
At its height during the war, an astonishing 42,000 people were working at the facility -- including many women entering the industrial workforce for the first time, people from all 48 states at the time and several foreign countries, according to GM. By comparison, the city of Ann Arbor had 30,000 residents in 1940, one year before plant construction started. (See related story for more history.)
GM Willow Run plant: Center of 'arsenal of democracy'

After GM took over the site in 1953, the facility became one of the automaker's largest manufacturing sites.

GM ultimately produced millions of components and more than 82 million complete transmissions there, not to mention thousands of Chevrolets and other cars made at the next-door assembly plant that was shuttered in the early 1990s.
Transmissions were secondary, though. What the plant really generated was a way of life that many workers fear is fading.
Some workers are in denial that the plant will soon be gone. For them, it was a lifeline to the middle class, a source of hope.
"There's still people thinking it's going to be open," said Greg Burkeen, a maintenance supervisor and Brooklyn resident who's been working at the site for 34 years. "There will be people in the parking lot Jan. 3."
"Disbelief, I guess," Weathers added.
"Yes," Burkeen said. "You've been here 35 years, you don't think it's going to be gone. It sent our kids through college. It's been our house payment."
That's not to say the plant hasn't experienced its share of turmoil. It's seen injuries, poor air quality, labor strikes, tension between management and hourly workers and numerous rounds of layoffs, sometimes temporary, sometimes permanent.
And, of course, the bankruptcy filing and concurrent announcement that the Willow Run plant would close for good.
"Nobody thought that would happen," Blasinsky said of the bankruptcy.
In time, the labor fights between GM executives and United Auto Workers employees seem senseless.
"There was a time when the relationship wasn't what it needed to be, and it's not just this plant, it was" all of GM, said Willow Run personnel director Jim McIntosh, a Milford resident who's been working at the site for 34 years. "The issues we were fighting over seem unreasonable on both sides."
Now, he added, "both the UAW and General Motors have realized they need to work together to survive."
The end arrives
Soon the plant will be lifeless. The people who worked there -- the people who helped America win the war, who turned Michigan into the automotive capital of the world -- are gone.
But the memories linger.
The last complete transmission came off the line Wednesday. Workers gathered to autograph the transmission for preservation at a GM museum. Past workers were invited too.
"There's a lot of people that won't come because it's too painful," said Keith Tushek, a labor relations representative.
They want to remember the site the way it used to be.
Maybe they won't come because memories can't be confined in a museum. They stick with you even when you'd rather forget.
"I had a lump in my throat thinking about it," said Yagiela, who worked at the facility alongside his dad, "especially when you see such a vital place.
"It was so vital. There was so much energy," he added. "It seemed like it would go on forever and ever."
Contact AnnArbor.com's Nathan Bomey at (734) 623-2587 or nathanbomey@annarbor.com. You can also follow him on Twitter or subscribe to AnnArbor.com's newsletters.