Posted on
Thu, Jul 11, 2013 : 10:20 a.m.
Up to 27 businesses hit with graffiti in Ypsilanti's downtown
By Tom Perkins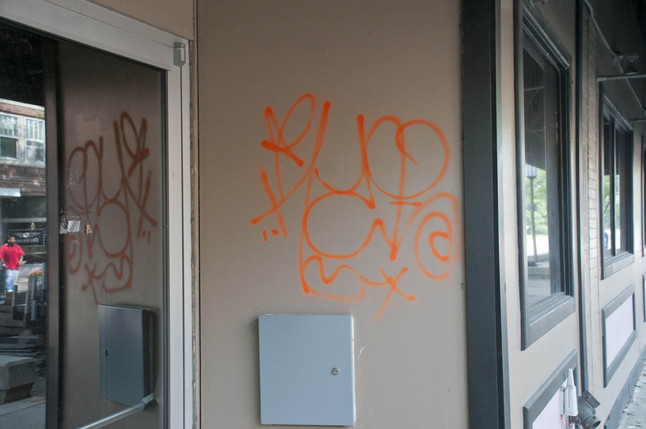 Tom Perkins | For AnnArbor.com
Ypsilanti's downtown was hit with at least 30 of the same graffiti tags over what officials suspect was a several-day period at the end of June.
Ypsilanti Police Sgt. Dennis Szymankiewicz said the department received only three complaints and is investigating all as malicious destruction of property cases.
Szymankiewicz says all the graffiti in the complaints the department received was done with orange spray paint and had the same style, but he said it doesn't appear that it is gang related.
City Planner Teresa Gillotti said she suspected as many as 27 businesses had been hit. By Friday morning, many businesses had painted over the tags, but around 20 remained in the downtown district.
"It's similar in style and it looks like one person did it," Gillotti said.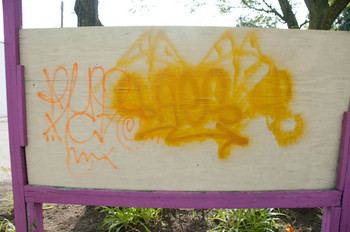 Tom Perkins | For AnnArbor.com
Among those tagged were several area churches, the former Pub 13, the former Club Divine, utility boxes up and down Michigan Avenue, the Corner Health Center, Congdon's Ace Hardware and more.
Per city building code, businesses have five days to remove graffiti from their buildings and Gillotti said ordinance officers were checking the buildings to see where they remained.
No tickets have been issued yet, though warnings to remove the graffiti were sent to 16 businesses.
The incident comes after two Ann Arbor teens were arrested for painting SAES and MOLE across Ann Arbor earlier this year and late last year. One vandalized 28 locations with the same graffiti tag between November and May in Ann Arbor and awaits sentencing. The other pleaded guilty to 11 counts of malicious destruction of property, was ordered to pay more than $13,500 in restitution and serve six months on probation.
Tom Perkins is a freelance reporter. Contact the AnnArbor.com news desk at news@annarbor.com.