Posted on
Sun, Apr 8, 2012 : 12:45 p.m.
Group prepares to demand new backyard chicken ordinance in Ypsilanti Township
By Tom Perkins
Ypsilanti Township resident Jaclyn Baublit was recently fined and ordered by a judge to remove five hens she and her husband raised behind her Ypsilanti Township home.
Now, a group Ypsilanti Township residents are preparing to attend the Board of Trustees' Monday night meeting and present officials with what they say is language for a fair ordinance that will allow backyard chickens in the township.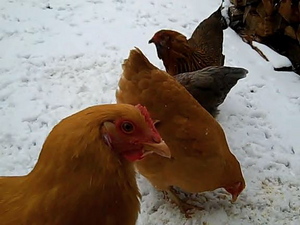 Corinna Borden | Contributor
Currently, residents aren't permitted to have poultry, livestock or an agricultural farm on land less than five acres of land.
Baublit's property on Lexington Parkway is less than five acres, so her five hens aren't permitted.
Township officials weren't immediately available to comment on the situation.
Township ordinance officials left a warning on Baublit's door alerting her to the ordinance violation. When Baublit still kept the chickens after a second warning, the township took Baublit to 14-B District Court.
Judge Charles Pope ruled in favor of the township because raising poultry on that small of a parcel clearly isn't allowed under the current ordinance, and Baublit said she voluntarily got rid of her chickens.
The chickens provided fresh eggs for Baublit and her husband, which she prefers because they organically fed, free-range chickens. She said the eggs are healthier and she knows where they come from, and she regularly provided extra eggs to neighbors, friends and family.
"I want everyone to be able to legally raise hens," she said. "I feel very strongly about being self-sufficient in today's economy, and I like fresh eggs. I want to know where they come from, they are more nutritious than store-bought eggs, and when they come from a store they are well over a month old."
Baublit said she gathered 80 signatures for a petition supporting a new ordinance that allows backyard chickens, and she is working on drafting proposed ordinance language to present to the township board with a small group.
Baublit said she was unaware of the current ordinance because she moved to the township from the City of Ypsilanti, which already has a backyard chicken ordinance. Chelsea also recently passed an ordinance addressing the issue.
"I want the ordinance changed, but have the chickens be regulated," Baublit said. "I want responsible people to own backyard chickens. I want them to be able to do it and do it responsibly. Just like if you have a dog."
The chickens were kept in a 4-foot by 12-foot coop that was formerly a small dog kennel, and Baublit said she supervised them while they were out in the yard.
"We never had a problem," she said. "They weren't out running around like it's Mexico. It was always supervised and controlled."
Baublit said there are other homes in her neighborhood and the township with backyard chickens, but she was targeted because her neighbor complained. But she said most of her neighbors support her.
"Who wouldn't want to have free, fresh eggs everyday from their neighbors?" she asked.