Posted on
Thu, Jun 6, 2013 : 12:30 p.m.
HSHV hopes to sterilize 50 more pit bulls free of charge before July
By Tom Perkins
Since Ypsilanti Township passed an ordinance requiring its residents to sterilize their pit bulls, the Humane Society of Huron Valley has offered to do so for free through grant funding from PetSmart.
The township and HSHV are hoping to receive another round of funding, but must use the remaining grant money to sterilize 50 more pit bulls by June 30.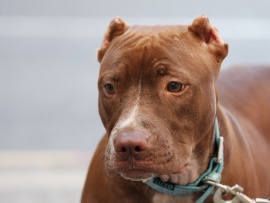 Photo by Photos8.com
To sweeten the deal, the HSHV is offering the chance to win a flat-screen television for residents who bring in their pit bulls.
The grant provided $72,000 for 900 sterilizations, and so far 850 pit bulls have been spayed or neutered as part of the program. The HSHV would be able to point to the program's success in its effort to secure more funding if it can complete all the sterilizations before the deadline.
Jenny Paillon , HSHV director of operations, said the agency loves the breed, but pit bulls make up 50 percent of their intake and one breed dominating that statistic means there is a problem with their value in the community.
"Making sure our companion animals are spayed/neutered is an important and positive step toward stopping overpopulation, which creates neglect, homelessness and needless euthanasia," she said.
In October 2010, Ypsilanti Township passed an ordinance requiring sterilizations for Staffordshire bull terriers, American Staffordshire terriers, American pit bull terriers or any mixed breed exhibiting five out of eight physical characteristics outlined within the ordinance.
There was a two-year sunset clause built into the ordinance and the Board of Trustees made the law permanent in October of 2012.
The number of pit bulls brought into the HSHV, either for running loose, being involved in dog fights or just to be euthanized, prompted the ordinance.
According to Humane Society statistics, pit bulls accounted for 50 percent of the dogs euthanized in 2010, and Ypsilanti Township accounted for nearly 50 percent of the shelter's pit bull intake.
In 2009, 237 pit bulls were brought into the Humane Society from Ypsilanti Township. That number dropped to 135 in 2012 after the law's implementation.
The number of dogs euthanized during that time frame also decreased from 139 to 58.
"If we sterilize this heavily overpopulated breed, then we will have safer communities from a public health and safety standpoint, and a community consciousness," Paillon said. "Sterilized dogs live healthier lives, communities have less unsocialized stray dogs roaming freely and we have less pit bulls coming to our shelter for possible euthanasia."
Mike Radzik, director of the township's office of community standards, said the township also fully supports the ordinance and feels it has been a success.
"This law has made a substantial impact on the pit bull population, which was the whole point," he said. "We continue to want to encourage sterilization of pit bulls and continue to control their population in the township, so it's important that the funding source can be renewed."
Residents who violate the law face criminal misdemeanor charges punishable by up to a $500 fine and/or 90 days in jail.