Posted on
Tue, Jul 9, 2013 : 2:59 p.m.
Massive amounts of butane, assault rifle and pit bull discovered in debris of exploded house
By John Counts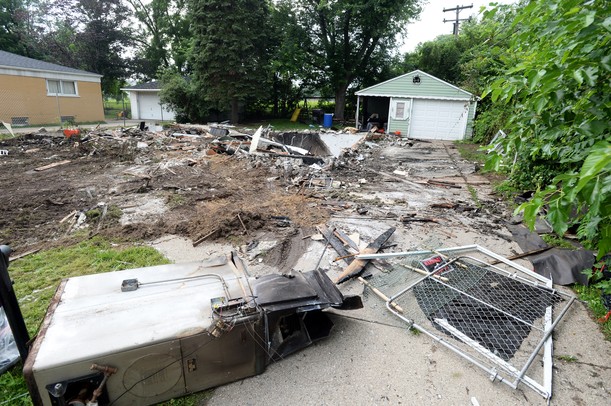 Melanie Maxwell | AnnArbor.com
Officials who have been sifting through the debris of the house that exploded Sunday in Ypsilanti Township have made several interesting discoveries, officials said Tuesday.
Ypsilanti Township Fire Marshal Vic Chevrette, who was still at the scene Tuesday afternoon, said officials discovered hundreds of boxes containing thousands of 15-ounce canisters of butane, which is still being investigated as a cause of the explosion.
An assault rifle and bags of marijuana were taken away from the home on Gattegno Street Monday, as was a pit bull, who was trapped underneath a collapsed wall but rescued by authorities, Chevrette said.
The 25-year-old man who fled from the home with his clothes on fire remains at U-M Hospital, where he was listed Monday in critical condition.
The woman and infant seen running from the home are still unaccounted for, Chevrette said.
The investigation into what caused the fire continued Tuesday, but a large cache of butane might be the cause. Officials said drug dealers use the butane to essentially extract THC from all parts of the marijuana plant to make what is called hash oil.
Butane-extracted hash oil is emerging in stoner culture as a way to achieve an intense high, described as "cosmically baked," according to a June 2013 Rolling Stone article.
It also can be easily made at home: Marijuana is packed into a tube and a solvent, such as butane, is forced through it.
The liquid is collected and the solvent is evaporated — leaving a highly concentrated THC-laced resin that can vary in its final consistency from hard crystals to earwax-like goop.
The majority of the canisters were found in the garage, where the hash oil-making process was definitely going on, Chevrette said.
Authorities were still sifting through the rubble Tuesday to see if it was also going on in the basement, which could have caused the house to explode from something as simple as lighting a cigarette, Chevrette said.
"This house was pretty tight," he added.
One of the implements related to making the hash oil was already located in the basement, leading authorities to believe there was some butane in the house as well as the garage.
But officials are not ruling out other possible causes of the fire, many of which are also related to the 25-year-old man's alleged marijuana grow operation, which was scheduled to be raided along with 21 other location across southeast Michigan Monday morning.
The house blew up before a search warrant could be executed, police said.
Chevrette said any number of items recovered by officials could be related to the explosion: the water heater, the hydroponic grow lights, furnace and the grow operation's filtration system.
The cause has been narrowed down to the butane or to natural gas inside the home, not in the gas lines leading to it, Chevrette said. A final determination of the cause should be made within a week, he said.
Michigan State Police continue to investigate. They could not immediately be reached for comment Tuesday afternoon.
John Counts covers cops and courts for AnnArbor.com. He can be reached at johncounts@annarbor.com or you can follow him on Twitter.