Posted on
Fri, Feb 3, 2012 : 12:32 p.m.
John Hansen resigns as Ypsilanti interim city manager
By Cindy Heflin
John Hansen, interim city manager for Ypsilanti, has resigned his position effective Friday, Mayor Paul Schreiber announced.
Schreiber said the resignation was "totally his decision," while Hansen described it as mutual.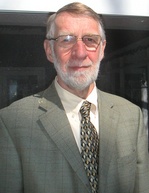 "I think we came to the conclusion that I'm just not the right person for this assignment. There's no good reason to go on when things don't feel quite right."
Hansen, former state legislator and Dexter school superintendent, has served as interim superintendent for several school districts and was once interim city manager in Chelsea.
He said Ypsilanti is facing challenges he has not dealt with in the past.
"They'll be better served by someone else," he said.
Schreiber said, per the city charter, City Clerk Frances McMullan will act as interim city manager until City Council appoints a new interim city manager.
Schreiber said he didn't know how soon a new interim manager would be appointed. "This has all been pretty fast moving," he said.
Hansen started the job two weeks ago and was making $400 per day.
Hansen represented the 52nd district of the Michigan House of Representatives from 1999 to 2002. Prior to that he served as Dexter School's superintendent for 15 years.
Council is working on a five-year financial plan that will eliminate a $10.69 million budget shortfall projected for 2017. The city also will ask voters in May to approve both an income tax and Water Street debt retirement millage.
Ypsilanti hired Hansen after former City Manager Ed Koryzno resigned to take a job with the state advising financially distressed communities on how to avoid takeover by an emergency manager.