Posted on
Sat, Oct 6, 2012 : 12:13 p.m.
Judge rules city of Ypsilanti cannot have control of Brandy's Liquor Shoppe liquor license
By Katrease Stafford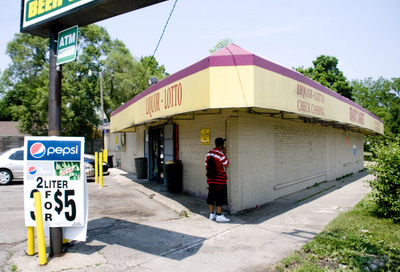 AnnArbor.com file photo
A Washtenaw County Circuit Court judge has ruled against the city of Ypsilanti and decided it cannot seize control of the Brandy's Liquor Shoppe's liquor license.
Ypsilanti City Council Member Pete Murdock said a hearing was held Thursday to seek an order that would have allowed the city to sell all of the store's personal property, including the liquor license. Judge Timothy Connors denied the motion.
"He ruled against the city and dismissed the case," Murdock said. "There was some issue of whether we could under the nuisance ordinance seize personal property and I think he (City Attorney John Barr) also was trying to include the personal liquor license, but the judge said that wasn't part of his order from a year ago."
The store, at 902 W. Michigan Ave. near Summit Street, has been closed and padlocked for nearly a year after Connors entered an order on Aug. 3, 2011 stating Brandy's had to remain closed until Aug. 4 of this year.
In August, the Michigan Liquor Control Commission decided that the license would remain in escrow, controlled by the MLCC, until it is transferred to a non-family member who is not associated in any way with the current owners, Sam and Kathy Hanna, and their son, Brian Hanna.
After Ypsilanti police and Michigan State Police investigations, the Hanna family faced seven charges that stemmed from incidents that occurred in 2010 and 2011.
The family was charged with receiving and concealing stolen property, five charges of sold, furnished or possessed alcoholic liquor on the licensed premises not purchased from an authorized source, and one charge of purchasing more than nine liters of spirits in one month.
Council Member Mike Bodary also attended the Thursday hearing and said the circuit court was not ready to take on the issue of the liquor license since the MLCC had its own ruling in August.
"The judge said in reviewing the whole thing, it was not his part to do that and he did not intend on getting into that part," Bodary said. "He said the 12-month padlock was acceptable."
Moving forward, Murdock said all the city can do is remain vigil.
"We're sort of back to the monitoring stage," Murdock said. "Hopefully it will be a lot better than in the past but there's no guarantee."
Several members of the community showed up for the hearing, as well as representatives from the Hanna family. Bodary said if and when new owners take over the store or liquor license, he is hopeful they are mindful of the community.
"There was disappointment but not necessarily a lot of surprise," he said. "We're certainly hoping that the new owners will respect the neighborhood and patrol and make sure there is no more drug dealing or prostitution."
Katrease Stafford covers Ypsilanti for AnnArbor.com.Reach her at katreasestafford@annarbor.com or 734-623-2548 and follow her on twitter.