Posted on
Sun, Nov 20, 2011 : 12:11 p.m.
Food banks face challenges as state cuts assistance to poor residents
By Tom Perkins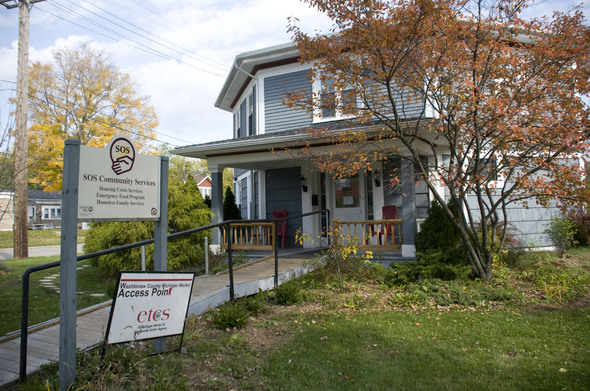 Tom Perkins | For AnnArbor.com
Gerald Pietrzack is employed, but he filed for chapter 13 bankruptcy last December after recovering from a serious illness. Through 2014, he will have a significant portion of his paycheck garnished.
Pietrzack lives with his wife in a one-income home and estimates they survive off roughly $300 a week. After his bills, including a car payment and mortgage, he has next to no money with which he can buy food.
He says his household is financially strained, and he has come to rely on the groceries offered at the Hope Clinic's food bank. Once a month, he goes there to get a bag of food and personal hygiene products. He said he expects to rebound once his wages are no longer garnished, but added Hope Clinic's food bank is essential in the meantime.
"I'm not running away from my obligations, it's just that times are tough," Pietrzack said. "Hope Clinic helps us get food and keeps us just above ground. This way we're not out there totally hungry or starving."
But as sweeping cuts are made to social assistance programs at the state level that were offered to poor residents, directors at food banks like Hope Clinic and the nearby SOS Community Center already are seeing an increase in the number of people coming through their doors.
Advocates for the state's poor and homeless have decried the cuts that have occurred since Gov. Rick Snyder took office. Among the changes are a tightening of food stamp eligibility, cuts to the cash assistance program, cuts to programs that provide assistance to those who can't afford heating bills in the winter and elimination of the earned income tax credit for the working poor.
Not only are recent cuts affecting residents who have no other options for help, food banks are fearful their resources could soon be strained as they cope with and prepare for an influx of consumers.
Melissa Burkhart, food programs director at Hope, said the clinic there offers appointments where up to 75 families pick up a bag of groceries weekly, but the bank also offers emergency service to anyone who comes in. If a person is hungry and has no other means, the clinic will not turn them away.
It's the latter type of consumer Hope is now serving more.
"I've seen a larger number of emergency requests, particularly for food, and heard clients say that they were not prepared for the cuts," Burkhart said. "I hear from people that they went to see if the food stamps were on their food card yet and they found out they just weren't getting them anymore."
Changes to food stamp - or Bridge Card - eligibility were made over the summer after it was revealed a man who won $2 million playing the lottery and a significant amount of college students were receiving benefits they didn't necessarily need.
No figures are yet available for how many people that affected, but about 40,000 Washtenaw County residents receive food stamps. Joel Skene, director of the SOS food bank on River Street in Ypsilanti, said he is already seeing unintended consequences of the tightened eligibility.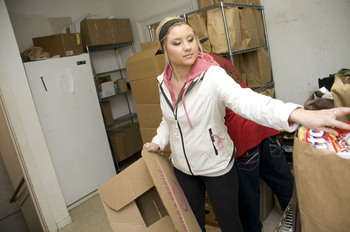 Tom Perkins | For AnnArbor.com
"That was intended to be targeted toward college students, but in my experience it has affected people who really do need assistance," he said.
The first residents to be kicked off cash assistance lost their benefits starting on Oct. 1, which the State's Department of Human Services expects will affect about 11,000 families and 41,000 individuals statewide. Locally, around 3,000 residents receive welfare assistance in Washtenaw County, and some are losing their assistance as they hit the 48-month state or 60-month federal limit.
"It is a challenge for SOS to respond to the needs of consumers when cuts happen, but it's an even greater challenge for the people who are in need of help," Skene said. "They are the ones who feel the direct impact and the ones who have to figure out ways to survive when there are fewer and fewer resources."
Skene said he is seeing the first consumers affected by that cut trickle in. On a recent Tuesday afternoon, dozens of people filed in and out of the SOS Food Bank to pick up a bag of free groceries for their household.
The bags' contents are prepared and predetermined by SOS staff, and on Tuesday they included corn, cabbage, potatoes, pasta, Doritos, a variety of canned goods, breakfast food and snacks.
An average of 80 low-income families pick up food at SOS each Tuesday, and more than 1,280 people were fed with groceries from the food bank in August.
SOS's "consumers" have a variety of financial situations. In August, the agency served 193 people who were classified as "recently unemployed", meaning they had lost job in the last three years. About 50 individuals were outright homeless, but Skene said many who utilize the program are there for the first time after falling behind.
He estimates over 80 percent of the agency's consumers are from Ypsilanti or Ypsilanti Township, while the rest are mostly from Ann Arbor or western Wayne County.
Consumers are limited to four trips to SOS annually, and the agency also has a Thanksgiving turkey giveaway. SOS purchases canned goods from Food Gatherers for a relatively cheap price, and meat, produce and bread is delivered for free as it's available.
Skene tries to balance the bags nutritionally, though he's at the mercy of whatever is donated to Food Gatherers from local grocery stores. Food Gatherer's deliveries arrive each Monday, and about 100 bags are pre-prepared by the volunteers and staff. When consumers arrive on Tuesday, they must provide an ID card and answer a list of questions about their personal situation.
Aside from supplying SOS's groceries, Food Gatherers also offers grants, which accounts for part of SOS's funding, along with donations and Federal Emergency Management Agency dollars.
But SOS is concurrently taking a hit from the other end as it receives less money following cuts to FEMA's emergency food and shelter funding that is a main avenue of federal dollars to local food banks and shelters. Skene said he doesn't yet know what that will mean for the agency's bottom line, but they are already looking for new funding sources.
The SOS "offices" on River Street are actually a cramped home converted into a resource center for low or no-income residents. SOS also uses the home as a resource center for residents facing some degree of a housing crisis or homelessness.
On a recent Tuesday, about a dozen volunteers helped out in the home and Skene was the lone staff member managing the operation. The lack of space, time and manpower are also limiting factors, and they aren't likely to improve as funding continues to dry up, Skene says.
Still, he says the food bank operations have been streamlined as much as possible and the program is efficient despite the constraints.
"I feel very proud of the amount of people we are able to help given our capacity, but the amount of space and time available right now doesn't allow us to help as many people as we would like to help," he said.
How a steady increase in the number of consumers will eventually impact SOS and Hope remains to be seen, though Burkhart and Skene are not optimistic and questioned making cuts to assistance while the economy still falters.
"These cuts are being made to people who are barely making it as is with the assistance, so once the assistance is gone it almost feels hopeless to them," Burkhart said. "This is the last place that should receive cuts."
Skene had similar thoughts.
"I think budgets are moral documents, and I think that they show us what our priorities are," he said. "I want to live in society where our priority is to take care of the neediest among us."
Pietrzack doesn't rely on any state assistance, but he said he needs the assistance from Hope until he can back on his feet and praised them for their efforts.
"The clinic is a great place and I cannot say enough about it," he said. "They welcome everyone with open arms and they're really helping us get over that hump."