Posted on
Fri, Aug 26, 2011 : 11:55 a.m.
Lowest-performing school list includes Lincoln, Ypsilanti, Willow Run high schools
By Janet Miller
Two Washtenaw County high schools again found themselves on the list of the state's lowest performing schools for the second year running, while a third area high school was placed on the list for the first time.
Willow Run High School and Ypsilanti High School again made the state's Persistently Lowest Achieving (PLA) list while Lincoln High School was added to the 2011 list, released this morning by the Michigan Department of Education.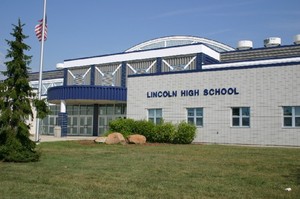 Lincoln Consolidates Schools photo
Lincoln Superintendent Ellen Bonter said she was pulled out of a meeting Thursday afternoon to take a call from the Department of Education, telling her the high school had landed on the PLA list.
"I was extremely surprised," she said. "By all measures, we are not at the bottom of lists when it comes to graduation rates or student achievement. I asked people at the state how Lincoln found its way on the list, and they said the feds changed the rules. ... I would need a PhD in statistics to understand their metrics."
Nevertheless, Lincoln will need to develop an improvement plan, said Bonter, who joined the district July 1. The plan would likely use less drastic measures than a complete redesign, she said. "We will probably not have a plan that changes things inside out and upside down. We've already done things that we will probably build on."
That Ypsilanti High School was on the list came as no surprise to Superintendent Dedrick Martin. "When we made the list last year, it began a year-long process to redesign the high school. It will be implemented this fall. We were not required to implement changes until the fall and we are on schedule."
The PLA lists the lowest performing 5 percent of state schools. All schools on the list must submit a detailed improvement/redesign plan to the state within 90 days. Ypsilanti and Willow Run were required to do that after being on the list last year.
Statewide, 98 schools are on the list. They all remain under the supervision of the school reform officer until the officer decides there has been significant improvement, School districts have three years to improve, but must show incremental improvement along the way, said Jennifer Martin, assistant superintendent for educational quality in the Ypsilanti district. They must file monthly reports with the state.
At the same time, the Department of Education released its Top to Bottom list this morning, individually ranking all of the state's schools. Three Ann Arbor elementary schools - Angell, King and Wines - were in the 99th percentile, the best ranking possible. The highest-ranking high school in the county was Community High School in Ann Arbor, which landed in the 95th percentile.
Schools from other area districts, including Saline, were also ranked highly.
The PLA list measures student achievement on state tests in math and reading. The Top to Bottom list measures student achievement over four years on state tests in five subjects, including math, reading, writing, science and social studies along with graduation rates.
Since it appeared on the PLA a year ago, the entire Willow Run district has been redesigned: Kaiser Elementary School and Cheney Academy were closed at the end of the school year, leaving only four school buildings: Pre-school through first grade will attend Willow Run Primary (formerly Henry Ford Elementary School); second through fourth grades will attend Willow Run Elementary (formerly Holmes Elementary School); fifth through seventh grades will attend Willow Run Intermediate (formerly Willow Run Middle School); and eighth through 12th grades will attend Willow Run Secondary (formerly Willow Run High School).
The high school has adopted the New Tech model, which uses project-based learning and technology. That model will be unveiled when school opens in the fall.
Ypsilanti responded by redesigning the high school into two smaller learning communities: The Global Leadership and Public Policy Academy and the Improv Academy.
Each will have about 550 students, Assistant Superintendent Martin said. The two learning communities will be on different floors of the building, creating smaller, stronger and more accountable environments, she said, that is expected to improve achievement. There will also be more instructional time.
Ypsilanti and Willow Run have more in common that just making the PLA list. They are among the 23 Michigan school districts that have a deficit of more than $1 million. Having that deficit opens the possibility for both districts to be taken over by a financial manager.
Schools required to implement a redesign plan must do so no later than next school year. The four models allowed are:
Transformational model: Districts would address four areas: 1) developing teacher and school leader effectiveness, which includes replacing the principal; 2) implementing comprehensive instructional reform; 3) extending learning and teacher planning time and creating community-oriented schools; and 4) providing operating flexibility and sustained support.
Turnaround model: This would include among other actions, replacing the principal and at least 50 percent of the school's staff, adopting a new governance structure and implementing a new or revised instructional program.
Restart model: School districts would close the school and reopen it under the management of a charter school operator; a charter management organization; or an educational management organization selected through a rigorous review process. A restart school would be required to enroll, within the grades it serves, any former student who wishes to attend.
School closure: The district would close a failing school and enroll the students who attended that school in other high-achieving schools in the district.
The purpose of the Top to Bottom list, which has no reward for top districts and no sanction for lower performing district, is to shed more light on schools, according to the Department of Education. Washtenaw County high schools ran the gamut, from top ranking Community High to Willow Run High School, which ranked in the lowest 5th percentile. Percentile rankings for other county high schools include: Ann Arbor Pioneer (85th), Ann Arbor Huron (65th), Chelsea High School (91st), Dexter High School (90th), Saline High School (90th), Whitmore Lake High School (54th), Ypsilanti High School (11th) and Lincoln High School (10th).