Man under investigation for stealing Chevelle during break-in faces felony, released after paying $1,000
Posted on Mon, Oct 1, 2012 : 1:25 p.m.
The headline of this story has been changed to clarify the status of the investigation into Kenneth James.
A 29-year-old man has been charged with receiving and concealing stolen property in connection to a home invasion that resulted in a 1966 Chevrolet Chevelle being stolen.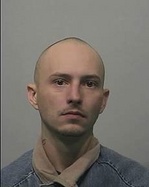 Courtesy of the Washtenaw County Sheriff's Office
Kenneth James, of Ypsilanti Township, was arraigned on one charge each of receiving and concealing stolen property worth more than $1,000 but less than $20,000 and possession of marijuana, according to court records. Sgt. Geoffrey Fox, of the Washtenaw County Sheriff's Office, confirmed James was arrested in connection with the Sept. 24 incident.
A home in the 2800 block of Valley Drive was broken into through a smashed sliding glass door, according to police. Tools and the Chevrolet Chevelle were stolen.
Jim Black, the owner of the home, told AnnArbor.com last week the Chevelle and most of the tools had been recovered. So far, James only has been charged with possessing the stolen property, but Fox said that might change.
"Right now, our case focuses on him being in possession of the stolen property related to this crime," he said. "The investigation is ongoing and more charges are expected soon."
James was arraigned over the weekend and released after paying 10 percent of a $10,000 bond. He will be represented by the Washtenaw County Public Defender's Office.
James is scheduled to be in court for a preliminary exam at 8:30 a.m. Oct. 9, Fox said.