Posted on
Tue, Mar 26, 2013 : 4:17 p.m.
Man accused of killing 15-month-old boy rejects plea deal
By Kyle Feldscher
The man accused of killing a 15-month-old boy when he was babysitting him last year rejected a plea offer that would have sent him to prison for a minimum of 30 years.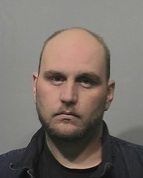 Michael Curtiss, 34, appeared in court for a final pretrial hearing Tuesday in front of Washtenaw County Trial Court Judge Donald Shelton. Curtiss is accused of pushing 15-month-old Chase Miller into a TV stand on the night of Oct. 21 at his Ypsilanti Township home while Curtiss was high on heroin.
The hearing had been delayed a week because his attorney, Washtenaw County First Assistant Public Defender Lorne Brown, said Curtiss was likely to take a plea deal.
That fizzled out in court Tuesday. Washtenaw County Assistant Prosecutor Blake Hatlem put the plea deal on the record: Curtiss could plead guilty to second-degree murder and first-degree child abuse and prosecutors would enter into a sentencing agreement calling for a prison sentence of between 30 and 50 years.
Curtiss refused to take the deal, even though Shelton told him he could be facing a mandatory life sentence if found guilty on a felony murder charge.
"It's already a life sentence, the way I see it," Curtiss said.
Curtiss faces charges of open murder, first-degree child abuse and possession of less than 25 grams of heroin. He's held in the Washtenaw County Jail without bond.
Curtiss appeared in court Tuesday with a heavy cast on his right forearm. He looked back at his family members gathered in the first room of the second-floor courtroom on a number of occasions.
Perhaps the most telling moment was when he peered back at the group of family members and shook his head slightly with a frown on his face.
His case was called originally toward the beginning of Shelton's Tuesday afternoon docket. However, the case was passed for Hatlem and Brown to continue plea negotiations.
It did not take long for Brown to pass along the news that Curtiss wasn't going to take the prosecution's offer.
"We respectfully request this matter be continued for trial," Brown said upon returning to the court.
Curtiss' trial is scheduled for 8 a.m. April 15 in Shelton's court.
Kyle Feldscher covers cops and courts for AnnArbor.com. He can be reached at kylefeldscher@annarbor.com or you can follow him on Twitter.